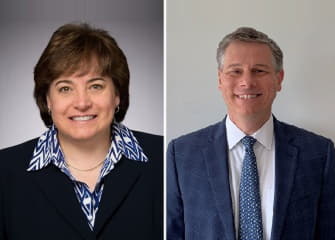 Amy Roberts and Doug Stead
Seventy2 Capital Wealth Management, a fast growing, independent wealth management practice in the Washington – Baltimore region added two experienced advisors to its Hunt Valley office.
Amy Roberts and Doug Stead joined Seventy2 Capital from Ameriprise Financial. Amy has over 20 years in the wealth management industry and has been recognized for her commitment to serving the retirement planning and financial needs of women and their families. She has also earned the Five Star Wealth Manager Award for six years in a row (2015-2021.) Doug has over 25 years of experience including as a Branch Manager and Financial Advisor with Morgan Stanley. He is an active member of his community as the Commissioner of the Parkton Recreational basketball league and a member of the Knights of Columbus.
Troy Elser, Partner, who leads the Hunt Valley office had this to say, "We have been thoughtful and deliberate about who we bring on to the team. Amy and Doug each have a tremendous amount of experience and knowledge. We are excited that they chose to join Seventy2 Capital and we are committed to helping them realize the benefits of an independent platform for their business and the clients they advise."
"I was impressed with the capabilities that Seventy2 Capital offers advisors. Having access to a wide array of research and investment solutions was influential in my decision to make a move after so many years with my previous firm," noted Amy.
Doug also commented, "I'm excited to be part of an energetic, entrepreneurial team that is vested in my success and has built a collaborative, client-first culture. It's refreshing, especially at a time when COVID has made connecting with clients and colleagues challenging."
Amy joins the practice as an Assistant Vice President and Doug joins as a Vice President. Both advisors will be located in the Hunt Valley office of Seventy2 Capital. If you are interested in learning more or working with Amy and Doug, please visit: Seventy2 Capital.
About Seventy2 Capital Wealth Management
Seventy2 Capital Wealth Management is an independent, private client practice headquartered in Bethesda, MD. With decades of combined experience at some of Wall Street's largest firms, advisors specialize in addressing the unique needs of Fortune 500 executives, successful individuals and families, and small to medium-sized businesses. Seventy2 Capital's commitment to maintaining the highest standards of care and professionalism has earned its advisors some of the most advanced designations including the CIMA®, CFP®, CAIA®, CRPC® and CRPS® and national industry awards. The practice has also been recognized as one of the 2019 and 2020 Best Places to Work in the Greater Washington Area by the Washington Business Journal.
About Wells Fargo Advisors Financial Network
For 20 years, Wells Fargo Advisors Financial Network, the independent brokerage arm of Wells Fargo & Company, has simplified independence by partnering with successful financial advisors and fostering a mutual passion for doing what's right for clients. As of January 1, 2021, Wells Fargo Advisors Financial Network has grown to operate nationwide with 1,350 owners and advisors in 537 practices administering over $144 billion in client assets. Investment products and services are offered through Wells Fargo Advisors Financial Network, LLC, Member SIPC, a registered broker-dealer and non-bank affiliate of Wells Fargo & Company. http://www.wfafinet.com
Seventy2 Capital Wealth Management is a separate entity from Wells Fargo Advisors Financial Network, LLC. CAR-0421-03117
*2020 survey conducted by Five Star Professional, an independent third-party research firm, who received nominations from peers or firms in the Baltimore area and evaluated the nominees based on 10 objective criteria including client retention rates, client assets administered, firm review and favorable regulatory and complaint history. The Five Star award is not indicative of the wealth manager's future performance. For more information: See See https://www.fivestarprofessional.com/wmdisclosures