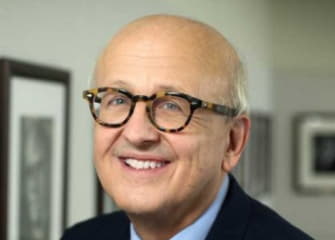 Dr. John Campo
Dr. Campo's research includes the integration of pediatric mental health services in general medical settings and suicide prevention
Kennedy Krieger Institute has announced the appointment of Dr. John Campo as Vice President of Psychiatric Services. Dr. Campo, whose work includes research on incorporating pediatric mental health services with general medical care, also has been named the director of mental health for Johns Hopkins Children's Center.
Well known for his contributions to child and adolescent psychiatry, Dr. Campo most recently served as assistant dean for behavioral health, chief behavioral wellness officer, and professor of behavioral medicine and psychiatry at West Virginia University and the Rockefeller Neuroscience Institute.
Before moving to West Virginia, Dr. Campo was chief of child and adolescent psychiatry at The Ohio State University and Nationwide Children's Hospital and then transitioned to chair of the Department of Psychiatry and Behavioral Health at The Ohio State University medical center, which he held for seven years.
"Mental and behavioral health are crucial elements of our interdisciplinary care, education and research at Kennedy Krieger." commented Dr. Bradley L. Schlaggar, president and CEO at Kennedy Krieger. "We are thrilled to have Dr. Campo join us to lend his extensive expertise and leadership to our pediatric psychiatric programs."
Dr. Campo completed medical school at the University of Pennsylvania and did a residency in pediatrics at the Children's Hospital of Philadelphia. He then completed a general psychiatry residency and a child and adolescent psychiatry fellowship at the University of Pittsburgh, followed by 15 years as a faculty member there.
In addition to his research on the integration of pediatric mental health services in general medical settings, and the study and prevention of suicide in children and young adults, Dr. Campo has examined mental health services and policy research, and the relationship between somatic symptoms and mental disorders in children.
Dr. Campo has been honored with the American Academy of Child and Adolescent Psychiatry Simon Wile Leadership in Consultation Award, the National Alliance on Mental Illness Exemplary Psychiatrist Award and has been on the America's Top Doctors list for 18 years. He has authored more than 120 papers and book chapters and edited the Handbook of Pediatric Psychology and Psychiatry.
Along with his position at Kennedy Krieger, and appointment at Johns Hopkins Children's Center, Dr. Campo will serve as the Leonard and Helen R. Stulman Professor and Director of the Division of Child and Adolescent Psychiatry at Johns Hopkins University School of Medicine.
About Kennedy Krieger Institute
Kennedy Krieger Institute, an internationally known nonprofit organization located in the greater Baltimore/Washington, D.C., region, transforms the lives of more than 25,000 individuals a year through inpatient and outpatient medical, behavioral health and wellness therapies; home and community services; school-based programs; training and education for professionals; and advocacy. Kennedy Krieger provides a wide range of services for children, adolescents and adults with diseases, disorders and injuries that impact the nervous system, ranging from mild to severe. The Institute is home to a team of investigators who contribute to the understanding of how disorders develop, while at the same time pioneering new interventions and methods of early diagnosis, prevention and treatment. Visit KennedyKrieger.org for more information about Kennedy Krieger.