Football star urges public to 'Take One For The Team'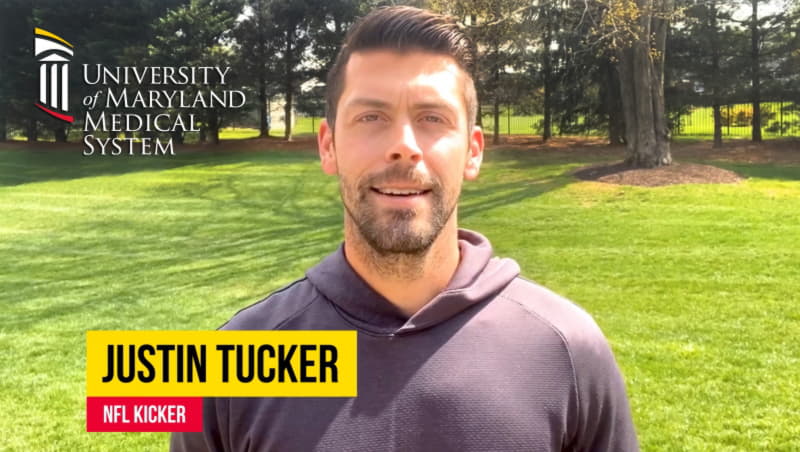 One of professional football's best-known placekickers is encouraging the public to "kick" the COVID pandemic by getting vaccinated. In a new online public service announcement produced by the University of Maryland Medical System (UMMS), Baltimore kicker Justin Tucker says the vaccine gives hope for returning to the normal activities we love, from celebrating birthdays to cheering on our favorite sports teams in person.
Tucker has been called the most accurate placekicker in NFL history, with an AFC Championship and Super Bowl ring to prove it. Now, he has a different kind of victory in his sights: Ending the COVID pandemic that's claimed the lives of close to 570,000 Americans, including over 8,400 in Maryland.
Tucker has teamed with the largest health system in Maryland to champion COVID vaccination in the "Take One for the Team" PSA. Urging the public to get vaccinated "for your family, your friends, your community, and yourself," Tucker extolls the public to come together as a team to end the pandemic. At the end of the PSA, he asserts "Let's Kick COVID Together."
UMMS is serving a vital role in Maryland's statewide vaccination initiative. The health system has partnered with the State of Maryland to operate the M&T Bank Stadium Mass Vaccination Site in Baltimore, which has vaccinated almost 200,000 people since opening on February 25, and to co-operate the Baltimore Convention Center Field Hospital. Throughout the state, UMMS operates additional vaccine clinics at affiliate hospitals and in partnership with other organizations.
UMMS Vaccination Locations
For vaccination at the M&T Bank Stadium Mass Vaccination Site, individuals can schedule an appointment online at www.umms.org/StadiumVaxor by phone at 410-779-9507. Walk-up vaccinations with no appointment necessary are also available from 9 am to 4 pm, seven days a week except for Baltimore Orioles daytime/afternoon game dates.
Information for booking a vaccination appointment at the Baltimore Convention Center Field Hospital is available at 410-649-6200 and at www.umms.org/BCCvaccine.Walk-up vaccinations with no appointment necessary are available Monday through Saturday from 10 am to 12 pm for Baltimore City residents.
Information for all of the UMMS' vaccination sites is posted at https://www.umms.org/coronavirus/covid-vaccine/get-vaccine.
"Justin Tucker's advocacy for public health will help us achieve an incredibly important goal—mass vaccination until COVID is no longer a pandemic," said Mohan Suntha, MD, MBA, President and CEO of the University of Maryland Medical System. "His decision to lend his voice to this cause speaks volumes about who he is and why he is such a fan favorite. He is truly a star, on and off the field."
Editor's Note: The "Take One For The Team" public service announcement can be viewed at: https://www.youtube.com/watch?app=desktop&v=bLHQvLD8_2Y.
About the University of Maryland Medical System
The University of Maryland Medical System (UMMS) is a university-based regional health care system focused on serving the health care needs of Maryland, bringing innovation, discovery and research to the care we provide and educating the state's future physician and health care professionals through our partnership with the University of Maryland School of Medicine and University of Maryland, Baltimore professional schools (Nursing, Pharmacy, Social Work and Dentistry) in Baltimore. As one of the largest private employers in the State, the health system's more than 29,500 employees and 4,000 affiliated physicians provide primary and specialty care in more than 150 locations, including 13 hospitals and 9 University of Maryland Urgent Care centers. The UMMS flagship academic campus, the University of Maryland Medical Center in downtown Baltimore, is recognized regionally and nationally for excellence and innovation in specialized care. Our acute care and specialty rehabilitation hospitals serve urban, suburban and rural communities and are located in 13 counties across the State. For more information, visit www.umms.org.