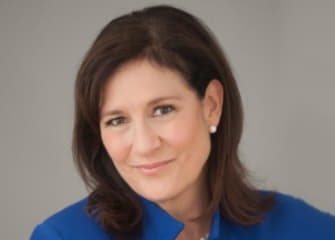 Christine A. Ross
After five years of transformative service, Maryland Chamber of Commerce President and CEO, Christine A. Ross, will be stepping down this summer.
Under Christine's leadership, the Maryland Chamber of Commerce experienced a renaissance, growing membership to over 5,500 organizations. Most notably, she relaunched the Chamber's Foundation and established the Maryland Chamber Federation, a formal, collaborative partnership with local Chambers to strengthen advocacy efforts. The Chamber is better positioned because of the bridges built with the broader business, education and association communities. Her work will leave a lasting impact on Maryland's business community.
Christine's vision helped refocus the Chamber's mission on educational initiatives and equity as a business imperative. Under the Foundation umbrella, the Teacher Externship program was launched and is now in its third year. This initiative helps bridge the gap between businesses and educators by pairing high school teachers with top Maryland businesses that provide hands-on experience in industries related to the subjects they teach. This July, 25 teachers will be placed at some of Maryland's anchor businesses, including Amazon, BGE, Stanley Black & Decker, UnitedHealthcare and Whiting-Turner.
During her tenure, the Maryland Chamber also became a trusted ally and advocate on justice reform issues. Christine established a second chance task force to better understand the challenges of reentry workforce development and to foster justice reform conversations with a diverse group of business and advocacy leaders from across the state. In recent years, the Chamber has advocated for second chance legislative issues, including legislation at the federal level to reinstate Pell Grants so incarcerated citizens can now take classes while serving their time. Most recently, her team developed a series of webinars on equity and inclusion in the workplace designed to foster understanding and meaningful action for small to mid-sized businesses.
Through the Maryland Chamber Federation, the Chamber partners with local chambers of commerce to ensure the voice of small business is heard. Since launching the Federation, the powerful grassroots advocacy network has grown to over 25 Chambers and Associations and 5,500+ small business members.
"We are grateful for Christine's leadership, vision and tenacity over the past five years," said Stephen Woerner, Chairman of the Chamber Board. "The Chamber, the business community and all Marylanders will continue to benefit from her contributions as CEO for years to come. I wish Christine well on this next step in her career."
Christine plans to consult and take some time to enjoy the summer with her husband, three sons and new puppy. The Chamber Board will immediately launch a search for Christine's successor.