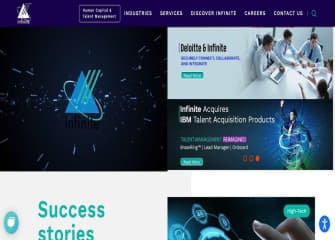 Infinite Computer Solutions, a leading global technology company, announced today that it has signed a purchase agreement to acquire IBM's (NYSE: IBM) Talent Acquisition Suite. Terms of the transaction, which is expected to close later this year were not disclosed.
Infinite is acquiring IBM Lead Manager, BrassRing, and Onboard. BrassRing supports more than 20 languages and provides candidate lifecycle management and employee onboarding for more than 240 customers, many of whom appear on the Fortune 500. In the past 12 months, the product was used to manage more than 60 million candidate submissions with almost 50 million recruiter logins and over 4 million active users.
"This strategic acquisition expands our portfolio of platforms and services with a market-leading product that accommodates the most complex recruitment and onboarding requirements," said Sanjay Govil, founder and chairman of Infinite Computer Solutions. "With hiring set to scale up post-COVID, we saw an opportunity to provide our global client base a proven SaaS-based platform to attract and recruit candidates as well as onboard employees."
Recent forecasts point to a jobs boom by the end of 2021, especially in industries like healthcare, supply chain, technology, retail, restaurants, telecom, and marketing, due to more businesses reopening, fiscal stimulus, and pent-up demand. Conference Board predicts that the economy is likely to add 5-6 million jobs this year 1 and the unemployment rate will drop well below 5 percent by the end of 2021 2.
Organizations using Talent Acquisition Suite products are able to engage candidates, empower recruiters, and improve results by increasing the quality of candidates, reducing the number of interviews and time-to-hire, as well as onboarding them faster. By elevating and automating the entire recruitment process, organizations are able to free up valuable recruiter time to focus on high-priority actions to attract and hire top talent.
As part of the transaction, Infinite will work closely with IBM to transition identified employees. After the closing, the company will also assume responsibility for service and support for up to 240 global customers using the purchased products worldwide, as well as all sales and marketing.
"After the acquisition closes, we will immediately focus on rapidly enhancing the platform with new features and capabilities for employee engagement, learning needs analysis, role fitment, agile team formation, competency development, and hiring quality assessments," said Govil. "In addition to supporting customers through our Talent Management Practice, customers can now tap into Infinite's global portfolio of IT and platform-led digital services to help with their digital transformation and cloud migration initiatives."
For more information on Infinite Computer Solutions and its Talent Management Practice, visit https://hcm.infinite.com.
About Infinite Computer Solutions
Infinite is a global technology solution provider headquartered in Rockville, Md. The company provides business technology solutions and product engineering services for telecom, hi-tech, healthcare, media & entertainment, insurance, banking & financial services, retail, public sector, travel and transport, and government. With the proprietary frameworks, platforms, accelerators, and domain experts, Infinite has been solving challenges for Fortune 1000 companies since 2001. Core service offerings include business transformation, digitalization, cloud services, application development management services, quality engineering and assurance, product/platform engineering, and infrastructure services. For more information, please visit www.infinite.com.