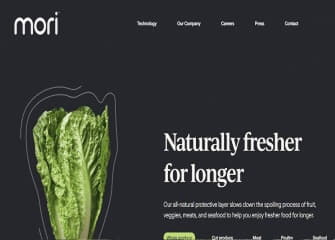 BOSTON–(BUSINESS WIRE)–Mori, a food technology company focused on reducing waste and creating more sustainable supply chains, today announced $16 million in Series B financing, led by the Drawdown Fund. Previous investors, Acre Venture Partners, The Engine, Prelude Ventures, Refactor Capital, Closed Loop Partners as well as new investor Knollwood Investment Advisory, joined the round.
Using just salt, water, and heat, Mori harnesses the unique attributes of natural silk to create an edible, undetectable, protective layer that can be applied to the surfaces of both fresh and shelf-stable foods. This adds flexibility in the supply chain, improves food access, and enables a reduction in both food and packaging waste.
"Mori is explicitly focused on addressing major problems in the food supply chain," said Laura Witt, General Partner of the Drawdown Fund. "We're confident that Mori will have a significant impact on reducing the 1.3 billion tons of annual global food waste while adding tremendous value to its customers."
Mori's continued growth and success is inextricably linked to increased benefits for people and the planet. These benefits include more equitable and consistent food access for underserved communities, as well as reductions in the amount of waste reaching landfills and the resulting CO2 equivalent emissions that are accelerating climate change.
"We are ecstatic about partnering with the Drawdown Fund. We both fundamentally believe that the solutions to the planet's most challenging problems can be solved by smart business and innovation," said Adam Behrens, CEO of Mori. "Together with our partners, our team has ambitious goals that will impact our global food system for the better. Working with the Drawdown Fund will meaningfully advance our vision, while continuing to keep transparency and sustainability at the heart of everything we do."
Mori's products benefit from a strong intellectual property portfolio. The technology is currently protected by 21 patents, 27 patent applications, and trade secrets worldwide. Mori intends to use the additional funding to accelerate commercialization into numerous categories and geographies, while expanding its product development pipeline. Multiple manufacturing streams will also be coming online by the end of the year.
About Mori
Mori is a technology company focused on innovations in the food, agriculture, and packaging industries. Through an innovative and proprietary process, Mori uses just salt, water, and heat to extract protein from silk and create an all-natural and edible protective layer that keeps food fresher for longer. The patented technology can be integrated at any time from farm to shelf, allowing food producers, processors, and retailers to extend shelf life, reach new markets, and reduce waste. Mori is based in Boston, Massachusetts.
About the Drawdown Fund
The Drawdown Fund, managed by Tiger Grass Capital, invests growth capital to scale businesses that reverse global warming by sequestering CO2 or reducing emissions. The firm focuses on the most catalytic businesses within food and agriculture, sustainable cities, and energy, partnering with companies that have proven technology, clear competitive advantage, and experienced, mission-driven teams. The Drawdown Fund was inspired by the New York Times Best-seller: "Drawdown: The Most Comprehensive Plan to Reverse Global Warming."