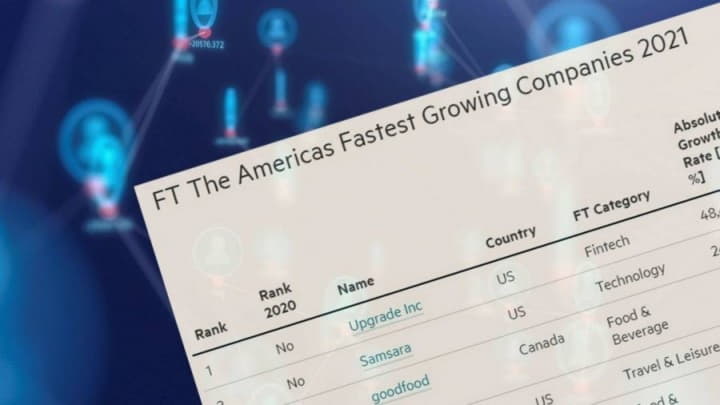 Mindgrub Technologies has been named to the Financial Times' 2021 list of fastest-growing companies in the Americas. This second annual list ranks companies in North and South America based on growth in revenue between 2016 and 2019. Mindgrub debuts on the list at number 413 alongside 500 other companies dominating in their respective sectors.
The Financial Times list was compiled with research company Statista by ranking companies from the seven countries in the Americas. This year's Financial Times ranking shows companies' strength as the COVID pandemic emerged, and Mindgrub has proven its resilience by continuing to expand across the country while delivering award-winning work to its clients.
"This is such a big surprise being recognized on this list alongside household names like Lyft and Netflix," says Todd Marks, Mindgrub's CEO. "Our goal at Mindgrub is to be a leader in our industry, and everyone at the company goes above and beyond to make sure that we continually deliver on our promise to create technology that makes lives better, jobs easier, and helps businesses thrive."
Mindgrub has seen steady growth in both talent and revenue since its founding in 2002, and now finds itself in the company of big name brands like Facebook, Tesla, and Uber on the publication's list. Companies from the following countries were eligible to participate: Argentina, Belize, Bolivia, Brazil, Canada, Chile, Colombia, Costa Rica, Dominican Republic, Ecuador, Guatemala, Honduras, Mexico, Nicaragua, Panama, Paraguay, Peru, the US, Uruguay, Venezuela.
View the full list of companies on the Financial Times website.
About Mindgrub | Mindgrub is an award-winning agency and consultancy that transforms businesses by designing technology for people. Our full-service team specializes in enterprise mobile and web development, application support, devOps, digital marketing, branding, user experience design, quality assurance testing, and emerging technologies.
Connect with Mindgrub online at mindgrub.com.
About Financial Times | The Financial Times (FT) is one of the world's leading news organisations, recognised internationally for its authority, integrity and accuracy. We provide essential news and analysis to ambitious individuals and companies around the world, alongside a suite of leadership services that put our content and expertise to practical use.