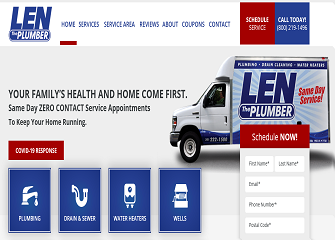 ST. LOUIS--(BUSINESS WIRE)--Thompson Street Capital Partners, a private equity firm based in St. Louis, MO, today announced its portfolio company Len The Plumber, a leading full-service residential plumbing company headquartered in Baltimore, Maryland, with branches serving the Mid-Atlantic region, has completed the acquisition of Neffsville Plumbing, Heating & Cooling Services, a full-service residential plumbing and HVAC company headquartered in Lancaster, Pennsylvania. Terms of the transaction were not disclosed.
"Neffsville and LTP share not only a similar geography but, most importantly, a commitment to customer service excellence and to being recognized within our industry as an employer of choice," said Jeff Cooper, CEO of Len The Plumber.
Jeff Aiello, Managing Director, TSCP, said, "As LTP continues to expand its geographic footprint through organic growth and acquisitions, Neffsville embodies the attributes we are looking for in a long-lasting and growth-driven partnership. We are excited that it is joining the Len The Plumber platform."
Leading the industry in reputation, best practices, training and development, and service excellence, LTP employs the most talented and qualified residential technicians in the industry.
About Thompson Street Capital Partners
Thompson Street Capital Partners (www.tscp.com) is a St. Louis-based private equity firm focused on investing in founder-led middle market businesses in the healthcare and life science services, software and technology services, and business services and engineered products sectors. Founded in 2000, the firm has acquired more than 100 companies and has managed more than $2.6 billion in equity. TSCP partners with management teams to increase value by accelerating growth, both organically and via acquisitions.