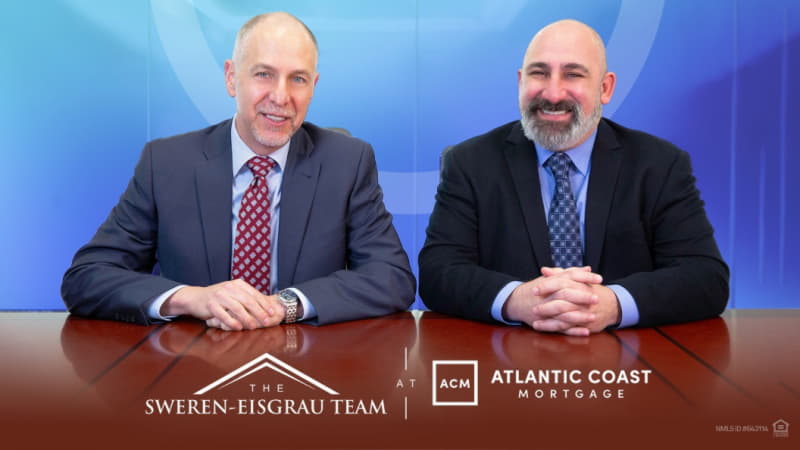 OWINGS MILLS, Md. (Apr. 7, 2021) - Neil Sweren and Scott Eisgrau –business partners at the Atlantic Coast Mortgage Owings Mills Branch – are used to providing solutions to borrowers purchasing, refinancing, building or renovating homes.
But after reading anews article, The Sweren-Eisgrau Teamfelt compelled to help others achieve a safer, sounder more secure future –local families facing utility shutoffs.
A moratorium on shutoffs (enactedearlier in 2020 when the economic impact of COVID-19 became apparent) wasexpiring, leaving many low-income families at risk heading into the winter months.
"It's heartbreaking thinking about people in the communities where we live and work not being able to heat their homes, cook meals or do most of the activities we take for granted," Sweren said.
In collaboration with the Office of Baltimore County Executive Johnny Olszewski, The Sweren-Eisgrau Teamestablished the ACM Cares: Local Energy Fundwith the nonprofitFuel Fund of Maryland.Every dollar contributed would be matched by Fuel Fund grants and BGE utility credits.
The Fuel Fund in conjunction with BGE had identified 15 households in Pikesville, Owings Mills and Reisterstownthatreceived shut-off notices, applied for assistance and been fully vetted as qualifying for needs-based assistance. On average $412 (with matching and grants mentioned above) brings a family's BGE bill current.
After Sweren and Eisgrau each donated $1,500, Atlantic Coast MortgageCEO Timur Tunadorchallenged the duo to raise another $3,000 that he would match dollar for dollar.
"Neil and Scott truly embody the ACM spirit to serve and assist our local communities – from intentional and responsible lending to actively pursuing thoughtful ways to give back. I couldn't be any prouder of their desire and efforts to help others in need by partnering with the Fuel Fund," Tunador said."This is why I chose to have ACM match both Neil and Scott's donations and provide an additional challenge match to further help their fundraising efforts for such a worthy and impactful program."
Inspired to raise $9,000, The Sweren-Eisgrau Teamemailedfamily, friends and colleagues: "Any help: large or small is greatlyappreciated. We can't assist all of the Baltimore County families in need, but we'd love to do our part to help those we can in our own backyard. Each dollar contributed is worth three or four dollars in helping keep the heat on for a family in need this winter."
Nearly three months later, the Team is on pace to triple its fundraising goal. To date, the ACM Cares: Local Energy Fund has raised$25,178.37 (including an additional $5K donated by ACM in December 2020)to assist to 31 households – nearly double the numberSweren and Eisrau originally aimed at reaching.Of those households, 19 had applied to Maryland'sOffice on Home Energy Programs(OHEP)in for the first time, demonstrating the impact of COVID-19 on the economy.
"It truly is amazing how one simple act of kindness by two people (Neil and Scott) helped so many of our vulnerable neighbors during the winter months," said Debbie Brown, director of the Fuel Fund of Maryland. "The generosity of the Atlantic Coast Mortgage employees is truly heartwarming; especially during COVID-19."
Brown noted that by February, 2021, the Fuel Fund was processing cases for 129 Baltimore County households with $189,718.31 needed to cover their utility bills. Furthermore, combined the OHEP and Fuel Fund had received over 65,000 energy assistance applications in the Baltimore Metropolitan Area.
With more jobs being lost, the Fuel Fund expects requests for utility assistance toincreaseandmore households will struggle to keep cool during the summer months. The Sweren-Eisgrau Teamhopes to continue receiving donations through the ACM Cares: Local Energy Fund.
Donations can be made online athttps://fuelfundmaryland.org.Click "DONATE" in the top right corner and select ACM Cares: Local Energy Fund in the campaign selection dropdown.
Paying It Forward
Giving back is not new to The Sweren-Eisgrau Team. Sweren is an active member and incoming board chair of Beth TfilohCongregation, while Eisenrau is an active member and president of the Sports Boosters of Maryland.Additionally, Atlantic Coast Mortgage is a proud supporter of Children's National Health System,Children's Miracle Network Hospitals,UVA Children's Hospital,ASK Children's Cancer Foundation and World Central Kitchen.
About The Sweren-Eisgrau Team
Neil Sweren and Scott Eisgraumet as freshmen at Towson University and have been close friends and business partners ever since. They have 50+ years of combined mortgage experience with a wide range of residential conventional and government loan programs. Over the years, they have served thousands of homeowners and prospective homebuyers in and around their community. They are based out of Atlantic Coast Mortgage's Owings Mills Branch located at 10461 Mill Run Circle, Suite 250. For more information, call 410-977-1201 or follow@SwerenEisgrauTeam on Facebook.
About Atlantic Coast Mortgage


Atlantic Coast Mortgage is a fully independent mortgage lending company currently licensed in 12 states across the United States and Washington, D.C., with over 275 employees. Headquartered in Fairfax, Va., Atlantic Coast Mortgage was founded in 2011 with a mission to help people achieve their dream of homeownership through a simple, easy and stress-free mortgage experience. For more information, visit www.atlanticcoastmortgage.comor follow @acmlendingon Facebook or Instagram.