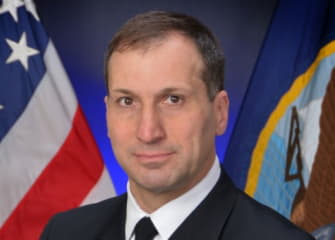 Alexander Lion Krongard
The COMMIT Foundation is pleased to announce Alexander Lion Krongard, U.S. Navy Rear Admiral Lower Half (Retired) will join The COMMIT Foundation as Chief Executive Officer in May. Krongard comes to The COMMIT Foundation after four years as Managing Director at DC Advisory. Prior to joining DC Advisory, he served as a Naval Special Warfare Officer and held several senior positions influencing military strategy and defense policy including on the National Security Council staff. Over the course of his military career as a Navy SEAL, he served across the world in Europe, East Asia, Africa, and the Middle East.
The COMMIT Foundation's mission is to help exceptional American service members and veterans transition into successful roles and careers post-service, ensuring they find purpose and meaning, both personally and professionally after military service. COMMIT creates tailored transition solutions for top veteran talent and reaches veterans across the Nation through high-impact workshops and one-on-one transition assistance programs. Additionally, through its corporate education program, COMMIT ensures corporate America is veteran-ready and well poised to hire and retain our Nation's transitioning service members and veterans.
"I am humbled and honored to have the opportunity to support the men and women who have served our great Nation selflessly as they transition into their next role out of uniform," said Krongard. "I would also particularly like to thank my colleagues at DC Advisory for their support as I myself transitioned from the military to private sector and now again as I step into this new role in the nonprofit sector."
COMMIT's Chairman and Co-founder, Guy Filippelli, praised Krongard's record of excellence. "COMMIT is honored to have an incredible individual taking the helm. Alex is known in the military community for his investment in people and giving them a sense of purpose and mentorship." Filippelli emphasized Krongard's leadership as COMMIT will continue to provide best in class services to post-9/11 veterans who have so bravely defended our liberties.