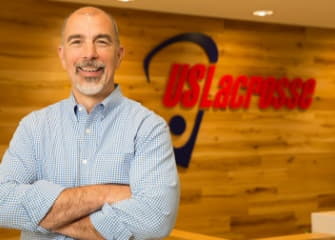 Steve Stenersen
Steve Stenersen, the CEO of US Lacrosse since the organization's inception in 1998, announced today his intention to depart the organization by the end of 2021. The decision is the outcome of a multi-year series of strategic conversations between Stenersen and the US Lacrosse Board of Directors about succession planning and organizational evolution.

Stenersen has served in a primary leadership role for the sport since being named executive director of The Lacrosse Foundation in 1984. In that role, he led the movement to create a unified national structure for lacrosse, ultimately resulting in the merger of eight national organizations to form US Lacrosse.

"Great leaders are rare, and Steve has proven himself to be an incredible one for nearly four decades," states Beth Lyman, chair of the US Lacrosse Board of Directors. "Steve's departure comes when he is at the top of his game, having built and led an outstanding organization that is now perfectly positioned to take advantage of new opportunities that lie ahead.

"The board of directors joins the entire lacrosse community in expressing our profound appreciation to Steve for helping to lead the sport and drive the organization to a place of programmatic and financial strength. While Steve will certainly leave huge shoes to fill, and his daily presence will be sorely missed, we are also thankful for, and excited about, the impressive foundation he is leaving US Lacrosse that can be built upon."

"It has been the honor of a lifetime to steward US Lacrosse from its infancy to the extraordinary position the organization occupies today," Stenersen said. "I'm enormously proud of what has been accomplished to date and will be forever grateful for the opportunity to work with such talented and passionate coworkers and volunteers throughout the United States in service to the sport we love. My pride for US Lacrosse is matched only by my excitement about what I know will be a rewarding journey of continued success."

Over the last two decades plus, US Lacrosse has invested more than $275 million into the development and infrastructure of the sport, helping it to become one of the fastest-growing team sports in the country. Roughly 850,000 players compete on organized lacrosse teams in the United States each year, an increase of over 225 percent since US Lacrosse first started tracking data in 2001.

US Lacrosse provides leadership and support to virtually every facet of the sport. Its Center for Sport Science relies on the expertise of medical professionals overseeing sport-specific injury research necessary to increase player safety. Recent examples of accomplishment include the development of a new chest protector standard to help prevent commotio cordis, which was adopted for youth, high school and college play beginning this season, and the creation of return-to-play recommendations that have helped the sport re-emerge from the COVID-19 pandemic.

Through the support of members, generous donors and sponsors, US Lacrosse has created countless programs, educational resources and initiatives to fuel the sport's expansion, such as the First Stick Program, TryLax, Sankofa Clinics, the Urban Lacrosse Alliance, physical education curriculum, diversity grants and much more. In the 2019-20 cycle, US Lacrosse awarded $2.3 million in grants to all 50 states.

US Lacrosse has been the leader of lacrosse-specific education, training hundreds of thousands of athletes, coaches and officials each year through its digital and in-person resources. Innovative approaches like the athlete development framework and a commitment to abuse prevention training, as well as US Lacrosse-funded background checks for coaches and a robust insurance and risk management program, have provided a strong foundation for continued sport growth and development.

The success of US Lacrosse under Stenersen's leadership has enabled the organization to serve as a catalyst for the sport's continued expansion. US Lacrosse entered its first year of operations with an annual operating budget of about $1 million and approximately 20,000 members nationwide; it has since grown into one of the most successful and respected national governing bodies of sport in the country and one of the largest non-profit organizations in the region. The organization's annual operating budget has exceeded $22 million and the number of US Lacrosse members grew to more than 430,000.

To best position the organization to meet the increasing demands of the sport, US Lacrosse moved to new headquarters in 2016, following a successful $15 million capital campaign funded entirely by private donations. The 12-acre complex in Sparks, Md. includes a three-story administrative center named in honor of a lead gift from the Intercollegiate Women's Lacrosse Coaches Association, the National Lacrosse Hall of Fame and Museum, and Tierney Field, which serves as the training center for the U.S. national team program.

US Lacrosse has played a major role in the development of the sport internationally. The first major event the organization hosted was the 1998 men's world championship. The U.S. defeated Canada 15-14 in overtime before a packed house at historic Homewood Field next to the original US Lacrosse headquarters on the campus of Johns Hopkins University. The championship received widespread television exposure the sport had rarely seen to that point.

Since then, US Lacrosse has hosted four additional world championships and is set to host the World Lacrosse Women's World Championship in 2022 in Towson, Md. A record 30 nations are expected to compete.

US Lacrosse national teams have won 18 of 22 World Lacrosse field championships since 1998, and the organization has always been a strong supporter of the sport's international growth and development. Stenersen has served in a variety of leadership roles within the sport's international federation over the years and is currently vice president of the World Lacrosse board of directors.

Stenersen, a Baltimore native who was a member of two NCAA Division I men's lacrosse championship teams as a player at North Carolina, has also been heavily involved in other volunteer roles. From 2006 to 2014, he served as a board member and board chair for The Baltimore Station, a residential addiction recovery for homeless veterans. He also served on the board of trustees for his high school alma mater, St. Paul's School (2012-2019), as well as the board of directors for the Association of Chief Executives for Sport (2012-18). He has been a member of the Tewaaraton Foundation board of directors since 2011.
The US Lacrosse board of directors will immediately begin a national search for a president and CEO, which will be overseen by the board's executive committee. Stenersen will remain in his role until a successor is named and/or installed, which will take place no later than Dec. 31, 2021.