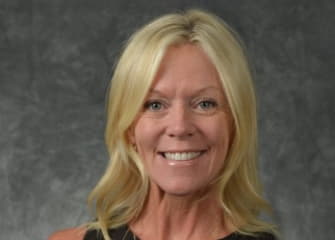 Kim Paradise
The Daily Record has named Kim Paradise, Chief of Staff at Mindgrub Technologies, to its 2021 listing of Maryland's Top 100 Women.
Maryland's Top 100 Women was founded in 1996 to recognize outstanding achievements by women demonstrated through professional accomplishments, community leadership, and mentoring. More than 1,500 women have been presented with the honor over the years.
Nominees were asked to complete an application outlining their educational and career history, professional and community involvement, corporate and nonprofit board memberships, and mentoring experience. They were encouraged to submit letters of recommendation from those who are familiar with their accomplishments professionally, in the community, and through mentoring.
Kim is currently Mindgrub's Chief of Staff, where she sits on the leadership team and coordinates across multiple departments to define, execute, and measure the effectiveness of major organizational initiatives. Kim also leads Mindgrub's Charitable Giving Committee, through which she handles the company's nonprofit partnerships.
Her role at Mindgrub includes spearheading multiple high-impact employee programs including "Wellness Week" and Mindgrub's "Games for Good," a creative solution to remote employee engagement due to the pandemic, through which the company generated over $6,000 in donations for Baltimore-based nonprofits. Additionally, Kim serves as the Engagement Director for Mindgrub's cybersecurity practice, leveraging her years of experience in the industry to help craft customized digital solutions for leaders in the space.
"I can't tell you how pleased I am that Kim made this list. There is no dispute that she is a consummate professional, highly successful, and experienced in her career," says Mindgrub's CEO Todd Marks. "It is Kim's ability to go above and beyond, her board involvement, and many other activities that, without question, earned her a spot on the Top 100 Women roster."
Twelve women will be inducted into the Circle of Excellence, receiving the award for a third and final time.
A panel of business professionals, previous Maryland's Top 100 Women honorees from throughout the state and a representative of The Daily Record reviewed the final applications and selected this year's honorees.
"The 2021 Maryland's Top 100 Women are hard-working, community-minded and not afraid to speak out for what they believe in. They support others, particularly through mentoring, and find innovative ways to create a positive impact in Maryland and beyond," said Suzanne Fischer-Huettner, group publisher of The Daily Record. "We celebrate this year's Top 100 Women's achievements and look forward to their future accomplishments."
Maryland's Top 100 Women awards will be presented on May 13 at an online celebration from 5:30 to 7 p.m. For more information about sponsorships and tickets, visit https://thedailyrecord.com/top-100-women/ or email Erin McLaughlin at emclaughlin@TheDailyRecord.com.
Winners will be profiled in a special magazine that will be inserted into the May 14 issue of The Daily Record and will be available online at TheDailyRecord.com.
About The Daily Record
Celebrating 133 years of journalistic excellence, The Daily Record is a multimedia news source that publishes a print and online edition five days a week and breaks news daily on its website, TheDailyRecord.com. In addition, The Daily Record publishes more than 30 special products a year including Women Who Lead, Doing Business in Maryland, Way to Be and Expanding Opportunities. The Daily Record also honors leading Marylanders through nine annual awards events including Maryland's Top 100 Women, Influential Marylanders and Most Admired CEOs. Its Digital Marketing Solutions helps customers with social media, search engine marketing and optimization, retargeting, email marketing and more. The Daily Record is part of BridgeTower Media, one of the country's leading business-to-business media companies with more than 40 print and digital publications in more than 25 U.S. markets.