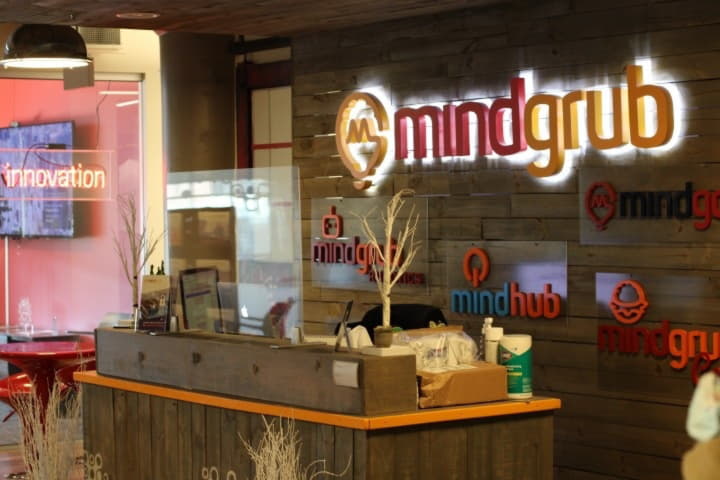 Operating as a fully-distributed team since mid-2020, Mindgrub's modern, professional, and fully-equipped workspaces are being filled by a diverse group of professionals in the Baltimore region.
After a record-breaking year of growth, Mindgrub's leadership has officially committed to operating as a remote-first company, even after the end of the COVID-19 public health crisis. "Our headcount grew by more than 50% in 2020 compared to 2019, but even before that growth accelerated, our Baltimore office was bursting at the seams," said Mindgrub's COO Shalisa Mohamed. "Since transitioning to a fully distributed model, we've been able to scale seamlessly and think more creatively about how we use the space we have."
As a result, the company has expanded the Mindhub, or the area of coworking spaces within the Mindgrub office that are available for sublease.
"Even though Mindgrub has made the shift to becoming a distributed company, there are still so many spaces within our headquarters where people can conduct business safely," said Mindgrub's CEO and Founder Todd Marks. "By repurposing those spaces to meet the needs of solopreneurs, startup owners, remote workers, and local businesses, we're able to connect with Baltimore's small business community in a new and meaningful way."
The Mindhub is located in the heart of Locust Point, one of the fastest-growing and most popular neighborhoods in Baltimore City. Conveniently located next to I-95, tenants also enjoy access to multiple grocery stores, restaurants, bars, coffee shops, breweries, public parks, local businesses, and water taxi stops.
Mindhub tenants have access to numerous amenities, including high-speed internet, fully-equipped conference rooms, and covered parking. They also benefit from building and office-wide security procedures, such as an onsite security team and key-card restricted entry to the exterior doors, stairwells, and office doors.
Mindgrub distributed a robust COVID-19 policy to all employees and Mindhub tenants in early 2020. Since then, the policy has been updated to include detailed procedures for masking, social distancing, disinfecting surfaces, utilizing shared spaces, and more.
"As an entrepreneur myself, I know how much of a milestone it is to move from the garage, the basement, or the kitchen table into your own office space," said Marks. "We're excited to be able to offer Baltimore-area professionals an affordable place to be productive, have virtual meetings, and (eventually) host meetings and events."
Multiple workspaces are available immediately for lease (including private offices of varying sizes) and packages start at $350 per month. To find out more about reserving space at the Mindhub, please visit hub.mindgrub.com or contact info@mindgrub.com.
About Mindgrub | Mindgrub is an award-winning agency and consultancy that transforms businesses by designing technology that people love to use. Our full-service team specializes in enterprise mobile and web development, application support, DevOps, digital marketing, branding, user experience design, quality assurance testing, and emerging technologies.
Connect with Mindgrub online at mindgrub.com.