Financial donation will be applied to efforts converting former Payson Street Library into multi-functional facility serving youth, families and seniors

Phil Croskey (middle), flanked by Jason Schwartzberg (left) and Paul Clary
MD Energy Advisors has provided a gift of $7,500.00 to Bon Secours Community Works to support the development of their Community Resource Center, a nearly 20,000 square foot facility designed to serve the social, recreational, educational, and health and wellness needs of youth, families and seniors in the rising neighborhood of Booth-Boyd in West Baltimore City. Currently under construction in the former Payson Street Library on 31. S. Payson Street, the multi-functional two-story building is expected to open thisfall.
The mission of the $6.8 million facility is to provide an intergenerational gathering place for residents in West Baltimore. It will feature a gymnasium, art space, library/media room, recording studio and space for allied health career occupational training, financial services and flexible community programming. The resource center is part of the larger "Future Baltimore" initiative in partnership Kaiser Permanente and the 21223 Community Anchor Group
"We appreciate every corporate and individual supporter in this critically-important project, and each dollar raised makes a difference," explained Julie Mercer, President of Bon Secours Baltimore Foundation. She indicated that approximately $1.3 million remains to be raised. "Our initial call to Phil Croskey of MD Energy Advisors was exploratory in nature with the hope that he would accept our invitation to tour the facility in the near future. We were pleasantly surprised when he made a financial commitment on the spot, sight unseen, because this rarely happens with our fundraising efforts.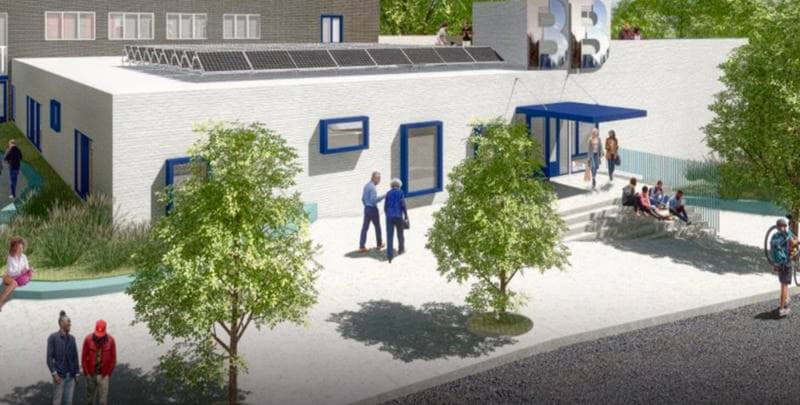 Community Resource Center
"Phil has tremendous credibility throughout the Baltimore business community. His support sets an extremely powerful example to other companies - both small and large - about the importance of helping at-risk residents and providing them with the resources they need.," Mercer said. "When you examine the whole notion of leadership, there is not a better illustration than this one."
Headquartered in Baltimore, MD, Energy Advisors is a customer-centric energy management, marketing, and efficiency firm providing energy solutions to utilities, private companies and residential clients. The company identifies opportunities to reduce energy-related operating expenses, offers strategies that improve environmental impact and provide financial vehicles to help implement these strategies.
"The founders of MD Energy Advisors have deep roots in Baltimore. We remain acutely aware of the discrepancies that exist in many communities that represent steep obstacles for people to overcome, in order to create better lives for themselves," stated Phil Croskey, Chief Executive Officer and Co-Founder of MD Energy Advisors. "We immediately recognized the long-term impact and potential of the West Baltimore Resource Center to make life-changing differences to residents of all ages and pledged our support. MD Energy Advisors encourages other business to follow our lead to complete the fundraising and, similarly, we intend to seek other local initiatives designed to uplift residents in the local community."
For additional information about MD Energy Advisors, visit www.MDEnergyAdvisors.com