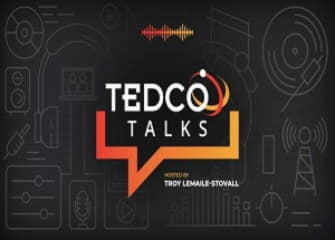 TEDCO, Maryland's economic engine for technology companies, announced today that CEO and Executive Director, Troy LeMaile-Stovall, has connected with various thought leaders in economic development from across the State of Maryland in a virtual series, called TEDCO Talks.
These thought-provoking conversations have provided an accessible platform for Maryland's entrepreneurs to learn more about the various resources and thought leaders supporting the community. The TEDCO Talks videos use a "fireside chat" format and cover a full range of topics, such as advice to small businesses dealing with COVID-19, available funding programs and benefits, diversity and inclusion, and more.
"It's been such a rewarding experience to engage with so many leaders, especially during a pandemic, and be able to support sharing critical information about their organizations with our entrepreneurial community" said LeMaile-Stovall. "We've also been able to establish many new ways to collaborate from shared interests and viewpoints throughout each interview."
In these engaging discussions, LeMaile-Stovall has interviewed leaders from a variety of organizations—including county economic development corporations, business chambers, and technology councils—about the emerging trends, challenges, and opportunities facing our region.
Among others, featured guests have included:
Amy Millman, Springboard Enterprises
Christy Wyskiel, Johns Hopkins University and Johns Hopkins Technology Ventures
Phil Singerman, TEDCO's First Executive Director
Don Fry, Greater Baltimore Committee
Chris Frew, BioBuzz and Workforce Genetics
Julie Lenzer, University of Maryland, College Park
Claire Broido Johnson, Maryland Momentum Fund
Michele Whelley, Economic Alliance of Greater Baltimore

"TEDCO Talks is available to the public at no cost and includes valuable information about entrepreneurial resources," stated Tammi Thomas, TEDCO's vice president of Marketing & Communications. "More importantly, this is a resourceful and cost-effective way to get to know some of the significant programs and players in Maryland's innovation ecosystem."
TEDCO Talks can be viewed on the YouTube channel at https://www.youtube.com/user/MDTEDCO. New videos will be added on a regular basis so check frequently for updates.
About TEDCO
TEDCO, the Maryland Technology Development Corporation, enhances economic empowerment growth through the fostering of an inclusive entrepreneurial innovation ecosystem. TEDCO identifies, invests in, and helps grow technology and life science-based companies in Maryland. Learn more at www.tedcomd.com.