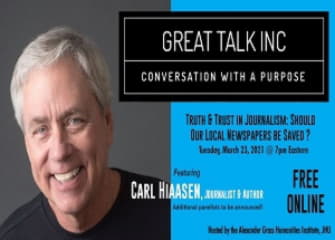 Great Talk and the Alexander Grass Humanities Institute at Johns Hopkins University will host a virtual event, "Truth & Trust in Journalism: Should Our Local Newspapers be Saved?", on Tuesday, March 23 at 7 p.m.
The discussion will feature a panel of experts, including Carl Hiaasen, author and journalist, Dewayne Wickham, Dean and Distinguished Professor of Journalism at Morgan State University, Wendy Benjaminson, Politics Editor for Bloomberg News, and Brian Stelter, CNN Chief Media Correspondent and host of CNN's Reliable Sources.
The event will be held in honor of Rob Hiaasen and other journalists killed and injured in the 2018 attack on the Capital Gazette in Annapolis, Maryland.
READ FULL ARTICLE HERE