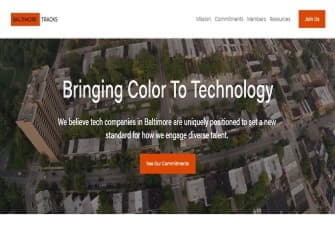 PRLog-- A coalition of leading Baltimore technology companies have launched Baltimore Tracks to express their commitment to help address shortcomings of diversity and increase career opportunities for People of Color in the tech industry. Baltimore Tracks members are joining the effort to build a diverse workforce by facilitating dialogue, sharing resources and best practices, and taking action to ensure equitable and inclusive policies and practices at their respective companies.
"For too long, we've seen bias and systemic racism in tech leadership limit equitable opportunities for People of Color," said Nick Culbertson, CEO of Protenus. "I am excited to join other Baltimore leaders in the commitment to taking tangible, measurable steps contributing to the development of a workforce that better represents the diversity and experiences of our community."
Baltimore Tracks believes that tech companies have a responsibility to leverage the many resources and best practices available to build a diverse workforce in the Baltimore community. Members commit to advancing these five initiatives that can build Baltimore into a hub for diverse and talented tech professionals.
Pay all interns and structure internship programs to recruit candidates reflective of the demographic population of Baltimore, specifically focusing on underrepresented groups.
Measure results with an annual DEI audit/demographic survey that will quantitatively analyze the state of diversity, equity and inclusion at each organization, and measure the demographic composition of our collective workforce.
Share best practices about DEI efforts including, but not limited to, anti-bias training consultants, diverse candidate job boards and relevant research.
Share qualified candidates who apply to our companies but aren't hired immediately, prioritizing applicants from underrepresented demographic groups.
Remove degree requirements and focus on qualifying skills when professional degrees or certifications are not required.
"The way this coalition came together was very inspiring," says Vincent Sharps, Chief Business Officer at Mindgrub. "Having this level of commitment to diversity, equality and inclusion from some of the most notable tech companies in Baltimore will hopefully make a measurable impact in this city and beyond."
Twenty-two companies have joined Baltimore Tracks at its launch. They include (in alphabetical order): Allovue, Audacious Inquiry, Apkudo, b.well, Balti Virtual, Catalyte, Cerebro Capital, clean.io, Facet Wealth, Fearless, idfive, Kapowza, Mindgrub, Mind Over Machines, Nyla Technologies, Pinkaloo, Protenus, SmartLogic, Techslice, Think, ThinkStack, and VitusVet.
"This is an opportunity to unleash the full potential of all Baltimoreans," said Jacob Hsu, CEO of Catalyte. "Catalyte has been chipping away at this issue for 20 years. But we're just one company. Coalitions like Baltimore Tracks compound the impact of these policies and amplify their message to a broader audience. We're excited to share what we've learned and learn new best practices from others."
"The Baltimore Community has been a big part of b.well's culture and an even bigger part of our success," said Kristen Valdes, CEO of b.well. "We are proud to call Baltimore home. We jumped at the opportunity to participate in Baltimore Tracks with the key focus of building our community and improving the lives of those living within it through training and hiring locally and maintaining a commitment to diversity and inclusion. We are looking forward to contributing to all the ways Baltimore tracks will empower companies with the tools and resources they need to give back to our local community and make a real impact."
"Participating in and supporting the communities we work in is critically important to our business," says Yair Flicker, President of SmartLogic. "In a city like Baltimore, with deep inequalities, we need collective action to accelerate change. Baltimore Tracks offers a coordinated approach to reduce bias within our companies and take concrete steps to increase the number of Black Americans in the tech workforce."
We invite other local tech companies and leaders to join the coalition. For more information on Baltimore Tracks or to get involved, visitwww.baltimoretracks.org.
About Baltimore Tracks
Baltimore Tracks is a coalition of Baltimore-based technology companies created to address racial inequalities and increase career opportunities for members of the BIPOC community within the tech industry. Baltimore Tracks members commit to building a diverse workforce by facilitating dialogue, sharing resources and best practices, and taking action to ensure equitable and inclusive policies and practices within their organizations. Learn more atwww.baltimoretracks.org.