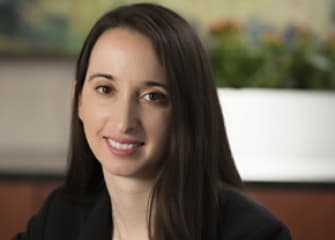 Ella Aiken
The law firm of Gallagher Evelius & Jones is pleased to announce that Ella Aiken has been named partner, effective January 1, 2021.
Ella practices in Gallagher's Litigation Group, advising and representing clients in commercial litigation, business disputes, risk management, health care regulatory matters, intellectual property infringement and enforcement actions, and the defense of medical malpractice claims. Ella also practices in Gallagher's Education and Health Law Groups, advising the firm's clients on privacy regulations and intellectual property related concerns.
Ella engages in pro bono work for the firm through her service to the Tahirih Justice Center, a nonprofit organization committed to serving immigrant women and children fleeing violence. She is also active on the board of directors of the Maryland Volunteer Lawyers for the Arts and the board of directors for Itineris, which supports adults with Autism Spectrum Disorder. Ella was also selected for the inaugural Best Lawyers® Ones to Watch honor in 2020.
"We couldn't be more pleased to have Ella as a partner in the firm," said Tom Dame, managing partner. "Through her intelligence, commitment, and creativity, Ella serves clients with excellence. She cares deeply about our clients, her colleagues, and the community, and we are grateful to have her as a member of our team."
Ella graduated from Columbia University School of Law where she earned her J.D. in 2011 and was a Harlan Fiske Stone Scholar. Also in 2011, she received her LL.M. in International Criminal Law, cum laude, from the University of Amsterdam Law School. Ella earned her undergraduate degree from Columbia University in 2007. Prior to joining Gallagher, Ella practiced civil litigation and intellectual property law in New York City.
She is a member of the Maryland and New York State Bar Associations, the Bar Association of Baltimore City, the Federal Bar Association, and the American Bar Association.
"I am delighted to join the Gallagher partnership," Ella said. "It is a privilege to work with colleagues who believe performing quality legal work, building trusted client relationships, and benefiting our community are all synonymous with the practice of law. I look forward to the future of our clients, our firm, and our city."