After acquiring 177,000 square foot asset last year, Garver Development Group undertaking significant project pivot to self-storage and light industrial uses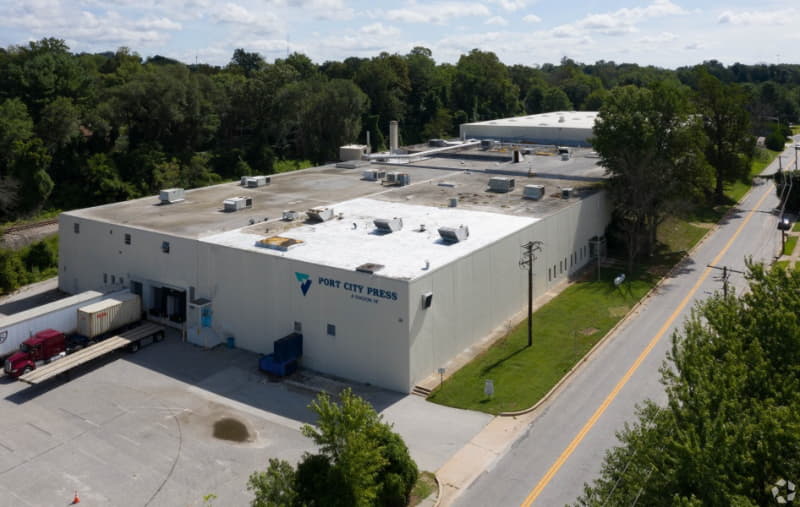 MD Energy Advisors has provided a $3 million commercial property-assessed clean energy (CPACE) loan to Garver Development Group to fund significant property upgrades and a comprehensive transformation of the former Port City Press printing facility located at 1323 Greenwood Road in the Pikesville section of Baltimore County, Maryland. Garver Development Group acquired the 177,000 square foot facility late last year and immediately proceeded with plans to transform the project to support self-storage, vehicle storage and light industrial and manufacturing uses. The former owner closed the plant in early 2018 and the site has remained dormant and unused.
CPACE is a financing mechanism that can be used to finance energy and water-related improvements of a real estate project. New construction and gut rehabs are strong applications for the product and CPACE will reduce the weighted average cost of capital for building owners when compared to preferred equity and or mezzanine financing. CPACE is fixed rate, long term, non-dilutive and non-recourse with rates routinely under 6% on a 20 to 25-year term and amortization.
Garver Development has initiated construction activities on a strategy that will convert approximately two-thirds of the building into a use that will support self-storage, as well as to store cars and small recreational vehicles. The balance of the space, representing approximately 32,000 square feet of space, will be transformed into an area that can be used for various light industrial and warehouse applications. The Baltimore-based firm is also planning to construct approximately 15,000 square feet of drive-up storage units on a large existing parking lot.
"Self-storage is under-served in this section of Baltimore County, so the location is terrific for our use. We decided to bring a driveway and loading lane straight through the building. This enables renters to load and unload in climate-controlled comfort" explained Peter Garver, President of Garver Development Group. "This is a market-differentiator in the product category. Providing this drive-through feature in this existing building presented a construction challenge in the need to raise portions of the structure's roof to 14' to accommodate the needs of potential end-users.
"We became familiar with CPACE financing and understood that this vehicle reduces the amount of equity needed for the project. We scoured the country looking for the right funding partner and realized the best option to broker the debt resided right in our backyard with MD Energy Advisors. They made the entire process extremely easy to navigate and conclude," Garver added.
"This is an excellent application of the CPACE loan program given the owner's intent to apply the funds towards a significant improvement package to build long-term value," stated Jason Schwartzberg, President of MD Energy Advisors. "Garver Development Group is extremely experienced and respected in the real estate industry and has successfully completed numerous high-profile projects throughout the State. Their plan for this building conversion is creative and responds to an identified need in Baltimore County."
"This is the largest CPACE loan completed in Baltimore County and one of the largest CPACE loans completed in the state," according to Jessa Coleman, Manager of the MD-PACE program. "CPACE is a major driver of economic development and environmental efficiency in Maryland. "More than $45 million of CPACE has been deployed to efficiency-saving projects in the state, with a concentration in the greater Baltimore metro area. Through this development, MD Energy Advisors and Garver Development Group are setting an example of how CPACE can creatively breathe new life into Maryland's many industrial facilities."
Headquartered in Baltimore, MD Energy Advisors is a customer-centric energy management, marketing, and efficiency firm providing energy solutions to utilities, private companies and residential clients. The company identifies opportunities to reduce energy-related operating expenses, offers strategies that improve environmental impact and provides financial vehicles to help implement these strategies.
Garver Development Group provides a comprehensive range of commercial real estate services including turn-key development activities and owner's representative work that involve the oversight of projects in the planning, preconstruction or under construction phase. The overall mission of the company is to protect its partners' interests and drive value creation. For additional information, visit www.garverdevelopment.com
"Baltimore County is pleased to see that our great partnership with PACE not only continues to benefit our local business owners but advances our sustainability efforts," said Leonard Howie, Director of Baltimore County Department of Economic and Workforce Development. "The success of this partnership is a vital part of our collective commitment to improving and protecting our environment."
Trout Daniel & Associates has been selected by Garver Development Group as the exclusive brokerage firm to handle marketing and leasing for this asset. Steven Cornblatt, Principal and Jared Engel, Coleman Tirone and Peter Coe of TD&A are overseeing the assignment.
For additional information about MD Energy Advisors, visit www.MDEnergyAdvisors.com.