Patented Visual Intelligence Technology Propels Online Sales and Grows Market Share through Optimized Visual Content; Master Lock Sees 32% Online Sales Growth with Vizit's Visual Brand Performance Platform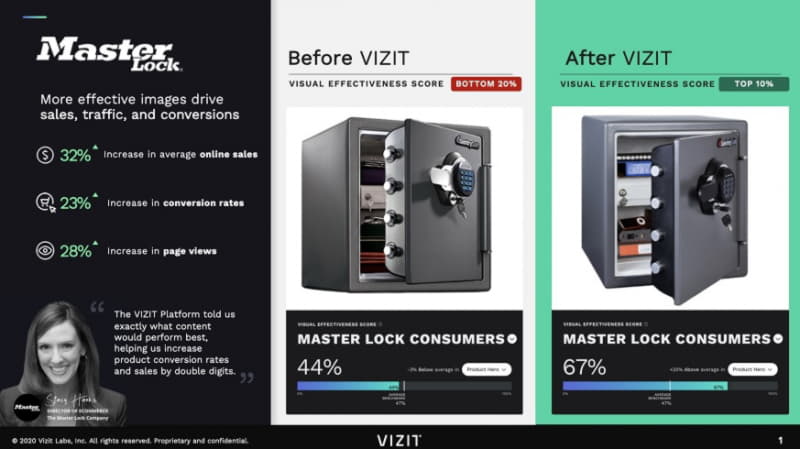 Vizit, the world's first Visual Intelligence company, has launched a revolutionary Visual Brand Performance Platform that helps global consumer brands drive higher sales by optimizing their visual content and designs to power remarkable visual experiences for online consumers.
Powered by ground-breaking AI technology that enables users to see "through the eyes" of any consumer audience in real-time, Vizit's software makes it possible for creators, marketers, researchers, and ecommerce professionals to turn their image-based content and designs into a powerful weapon to attract and convert more customers, ultimately outshining competitors on the digital shelf.
"Images are the most effective sales tool on the planet," said Jehan Hamedi, CEO of Vizit. "To win in our saturated digital visual-centered world, companies need to optimize their visual brand performance and harness the power of their imagery to drive commerce with online consumers."
Master Lock, one of Vizit's early partners, saw immediate results using the Visual Brand Performance Platform. After analyzing and optimizing its ecommerce product images with Vizit, Master Lock saw a 28% increase in page views, a 23% increase in conversions and more than a 30% lift in Amazon sales.
"Vizit told us exactly what content would perform best, helping us increase product conversion rates and sales by double digits," said Stacy Hanks, director of ecommerce at Master Lock. "Visual Intelligence is the new way of working. When you're able to harness Vizit's AI capabilities, you're able to adapt to the changes in consumer behavior in real-time. That is absolutely going to be the future of ecommerce, the best content wins."
The impact of Vizit's Platform is immediate, measurable, and unrivaled. It acts as a spark that ignites sales through world-class visual experiences. Vizit also electrifies product development and content creation with AI-powered Visual Intelligence that delivers predictive insights in real-time. This reduces iteration costs and saves months and, in some cases, years of development time.
Vizit works with the biggest names in marketing to help build and grow the most powerful visual brands on the Internet. Vizit customers include the top three global consumer beverage companies, the world's largest snack company, the global leader in motorcycles, the largest U.S. meat supplier, a world-renowned coffee brand, an apparel provider to sports teams around the globe, a leading pet care conglomerate, among many other household brands.
To experience Vizit's brand-new Visual Brand Performance Platform, tune in to their upcoming webinar entitled "Winning the Digital Shelf with Digital Intelligence in 2021." On Wednesday, February 10, 2021 at 1:00 – 1:40 p.m. ET, viewers will see first-hand how the technology operates and engage with Vizit's CEO and founder, Jehan Hamedi along with Vizit's consumer intelligence expert, Adam Colasanto. Please register here.
To learn more about Vizit, please go online, www.vizit.com.
About Vizit
Vizit is the world's first visual intelligence company. Designed by leading experts in AI and computer vision, Vizit's revolutionary Visual Brand Performance Platform helps companies measure, understand, and optimize their Visual Brands to drive more sales, engagement, and connection with their target consumer audiences. Powered by patented visual AI technology and a proprietary database of 1+ Trillion visual cues that influence consumer behavior, The Vizit Platform enables the world's top consumer brands to "see through the eyes" of their consumers in real-time to create the most powerful Visual Brands and Visual Experiences. Vizit is headquartered in Boston, MA. Learn more about Visual Brand Performance and what it can do for your organization at www.vizit.com.
About Master Lock
Founded in 1921, Master Lock is the largest global manufacturer and marketer of padlocks, safes and security products. By continually setting a new standard for lock design, application and performance, the company has remained an industry leader, supporting the Master Lock and Sentry Safe Brands through its commitment to innovative and high-quality security solutions. For more information on Master Lock, please visit www.masterlock.com.