Bethesda firm achieves an unprecedented score of 99 out of 100 for its efforts to advance innovative health and wellness initiatives at its DC area buildings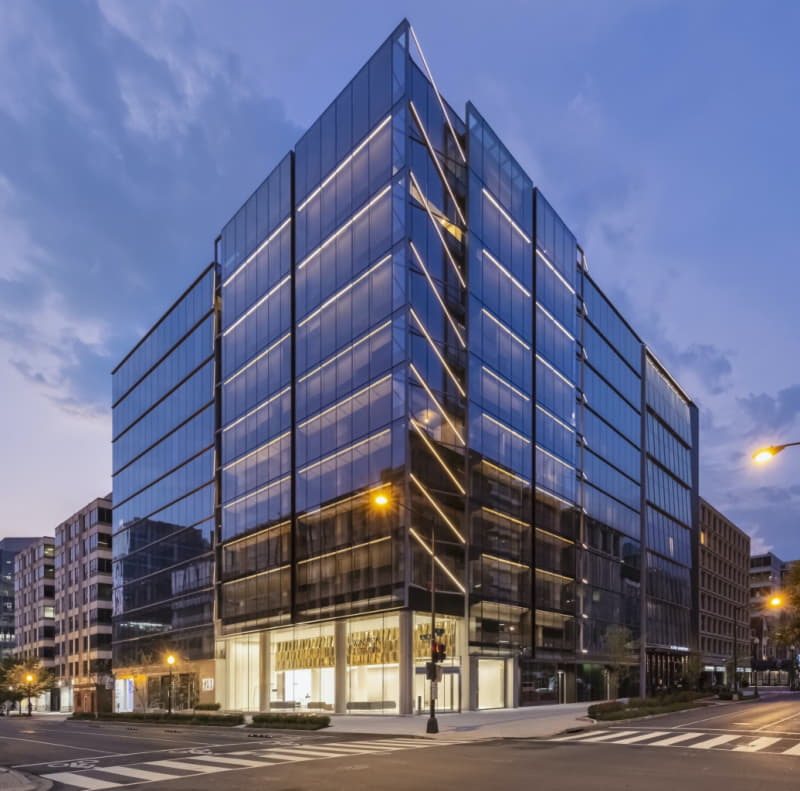 1901 L Street in Washington, DC
After taking numerous steps to provide safer, healthier spaces in its buildings, The Meridian Group announced today that it has achieved the nation's highest score to date to earn the Fitwel Viral Response module certification.
The Meridian Group earned an unprecedented rating of 99 out of 100. It's the highest score ever earned for the Fitwel VR module certification from the Center for Active Design (CfAD).
The Meridian Group, a real estate investment and development firm based in Bethesda, Md., is one of the very first firms in the Washington area to achieve VR module certification for its portfolio of buildings. The third-party certification validates the policies and practices Meridian has established to promote healthy indoor environments and mitigate the spread of contagious disease across its buildings.
"Congratulations to Meridian for their impressive accomplishment in achieving the highest score to date using the Fitwel VR module," said Joanna Frank, President and CEO of CfAD. "This milestone is a testament to Meridian's commitment to advancing the healthy building movement and to using the best guidance that science has to offer to protect the health and well-being of its tenants and residents."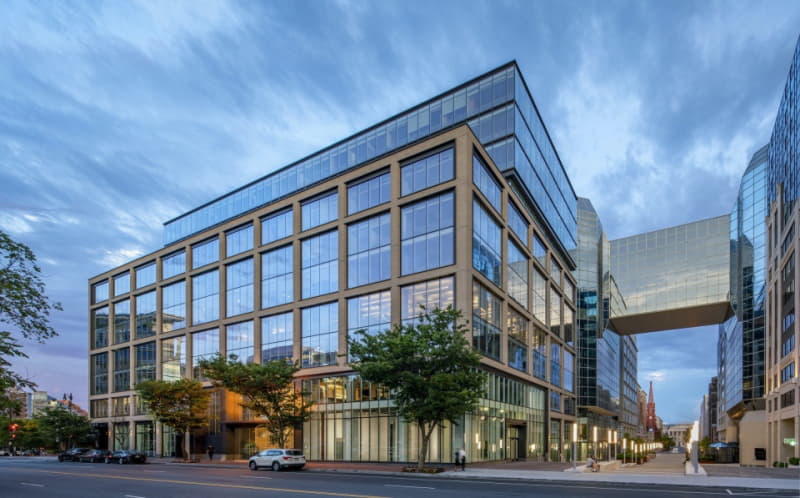 Anthem Row in Washington
Fitwel is a rigorous third-party healthy building certification system operated by CfAD. It was created as a joint initiative between the U.S. Centers for Disease Control and Prevention (CDC) and the General Services Administration (GSA) to set the industry standard for evidence-based strategies that promote positive health outcomes for building occupants and communities.
"During an unprecedented time in real estate and the world, we are honored to be recognized for our innovative efforts to optimize safe environments in our buildings," said Mark King, Chief Financial Officer and Chief Operating Officer of The Meridian Group. "We are dedicated to – and 100 percent focused on – the health, safety and well-being of all our buildings' tenants and visitors."
Fitwel's VR module was developed in coordination with leading public health experts and real estate companies to effectively address the unique challenges associated with COVID-19 and other infectious respiratory diseases.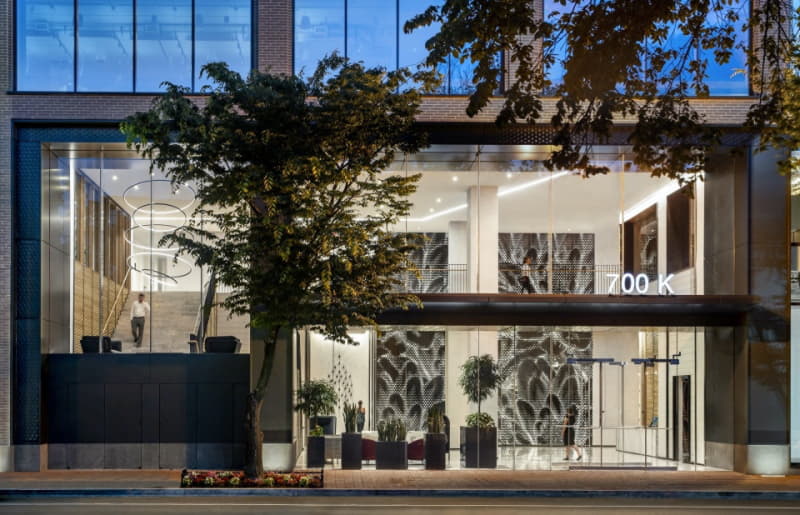 Anthem Row in Washington
The Meridian Group partnered with one of its tenants, Paladino and Company, a sustainability and green building consulting firm, to achieve the VR module certification. That meant demonstrating The Meridian Group had taken a series of important steps to elevate the safety of its buildings.
This includes enhancing indoor air-quality policy, testing and monitoring protocols; a plan for surface hygiene stations; an enhanced cleaning, disinfecting and maintenance protocol; Personal Protective Equipment (PPE) guidelines; and a contagious disease outbreak preparedness plan.
During the certification effort, Paladino provided oversight, quality control and technical advice. The firm also supported the development and update of Meridian's policies and managed the submission to the Center for Active Design.
"We are proud to work with The Meridian Group on this critical effort – one that's especially meaningful to us as tenants of The Meridian Group at Boro Station in The Boro," said Katie Rothenberg, Managing Director, Paladino and Company. "Addressing health and mitigating viral transfer is one example of how we must respond to the new realities of potential pandemics. Fortunately, there is so much we can do to promote health and transparency in buildings where we live and work."
Achieving the highest entity level certification score is just the latest distinction earned by The Meridian Group. The Meridian Group and Rockefeller Group recently announced that 1901 L Street had become the first-ever office building in Washington DC to earn WELL Building Core and Shell certification. To earn this certification, the trophy office building had to meet a variety of design and operational preconditions applicable to core and shell projects by attaining quality standards for air, water, nourishment, fitness, comfort and mind.
"We are proud to be leaders in the 'healthy building' space by implementing new practices to create safer, healthier spaces across our entire portfolio," King said. "That is what is required in the new environment, and that's our commitment to everyone who enters our buildings."
ABOUT THE MERIDIAN GROUP
The Meridian Group is a real estate investment and development firm based in Bethesda, Md. Since its inception in 1993, Meridian has acquired and developed more than 14 million square feet of office, residential, hotel, mixed-use, and land with a focus on the metropolitan Washington, DC market. To learn more, visit Meridian's website at www.tmgdc.com.
ABOUT PALADINO AND COMPANY
Established in 1994, Paladino and Company is an industry leading green building and sustainability consulting firm that aligns sustainability, wellness, and climate resilient strategies to measurable business value. Our team of business analysts, organizational development experts, architects, engineers, and building scientists advise clients on how to lift their initiatives to create transformational change in their organizations and deliver measurable business value. Find Paladino and Company online at www.paladinoandco.com or www.twitter.com/Paladinoandco.
ABOUT FITWEL AND THE CENTER FOR ACTIVE DESIGN
Fitwel® is the world's leading certification system committed to building health for all®. Generated by expert analysis of 5,600+ academic research studies, Fitwel is implementing a vision for a healthier future where all buildings and communities are enhanced to strengthen health and well-being. Fitwel was originally created by the U.S. Centers for Disease Control (CDC) and Prevention and U.S. General Services Administration. The CDC remains the research and evaluation partner for Fitwel. The Center for Active Design, a global not-for-profit organization, was selected as the licensed operator of Fitwel, charged with expanding Fitwel to the global market. To learn more about Fitwel, visit www.fitwel.org.