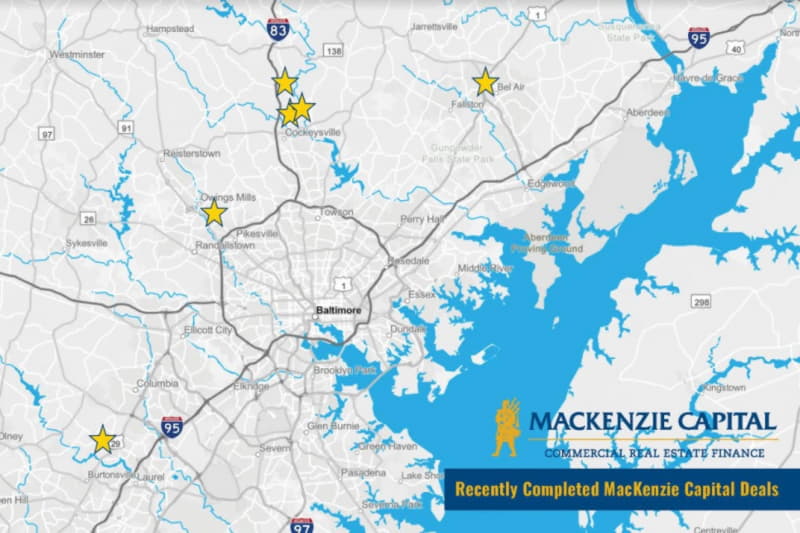 MacKenzie Capital, LLC is pleased to announce they have secured more than $47 million in project financing totaling 450,000 square feet in the past three months. Transactions spanned multiple asset classes including retail, mixed-use, office, and land development. Finance activity for these assignments involved acquisition, refinancing, and construction/interim financing. MacKenzie Capital President John Black and Vice President Brendan Harman worked with each client to provide them with the most advantageous source of capital for their commercial real estate needs.
While the last three months have presented unprecedented challenges for the commercial real estate finance business, activity has remained steady for the right transactions. Through this pandemic, MacKenzie Capital was able to identify viable sources of capital financing still looking to execute in these uncertain times. While the landscape has changed dramatically during this time and with fewer capital sources, stricter underwriting, and longer due diligence, the rate environment is at historic lows. "This has certainly been a challenging time for many; however, there is still money available and by casting a wider net on sources, we are able to more effectively accomplish the short- and long-term goals of our clients," stated Black.
MacKenzie Capital, LLC is a real estate capital advisory firm that commercial real estate owners, developers, and investors rely on for their debt, equity, and project financing needs. Our creative, hands-on, and client-focused approach to capital advisory ensures that our clients are getting the most effective financing for their project in the current market. For decades, our team of experienced advisors has successfully arranged financing for small and large projects of all property types throughout the country. MacKenzie Capital is an affiliate of The MacKenzie Companies, one of the Mid-Atlantic's largest independently owned full-service commercial real estate firms that is based in Baltimore, Maryland.
For more information about MacKenzie Capital, please visit www.mackenziecommercial.com, or contact John Black at jblack@mackenziecommercial.com or 410.494.6652, or Brendan Harman at bharman@mackenziecommercial.com or 410.494.6656.
MacKenzie Ventures, LLC (MacKenzie) possesses the multi-disciplined team necessary to excel in Maryland's corporate real estate community. Comprising seven firms, MacKenzie provides clients a competitive, full service platform of offerings in leasing, sales, investment sales, tenant and landlord advisory services, corporate and business consulting, commercial development, general construction, property and asset management, multifamily property management, debt and equity capital placement, and GIS/Data Analytics. With more than 225 employees and offices in Annapolis, Baltimore, Bel Air, Columbia, and Lutherville, Maryland, MacKenzie is one of the largest full service commercial real estate firms in the Mid-Atlantic. Please visit www.mackenziecommercial.com for more information.