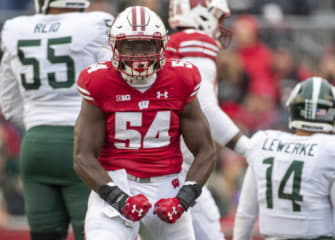 Former Wisconsin linebacker Chris Orr, now a 2020 NFL Draft prospect, is proud to be part of a successful football family, but he wants to be his own person upon entering the league.
Orr's brother, Zach, is a coaching analyst on the defensive side of the ball for the Ravens. He played for Baltimore from 2014-2016 but retired because of a congenital spine condition. His other brothers, Terrance and Nick, played football at Texas State and TCU, respectively. Their father, Terry, played eight years in the NFL (1986-1993) as a tight end for the Washington Redskins and San Diego Chargers.
Though Chris says being part of a football family is a blessing, one of his goals is for Zach, Terrance and Nick to be referred to as "Chris' brother" in the future.
"It's an honor. I'm blessed to even be in that position," Chris said of his family's success on Glenn Clark Radio April 9. "Not many people have family members that have made it to the highest level of football and have some type of success. So, it's humbling and it makes me proud to hear. But at the same time, I would love to just be Chris."