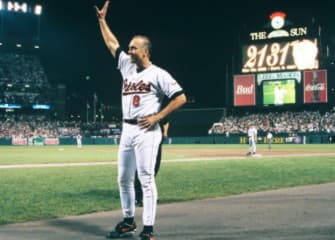 If a baseball season is played this year, it will start under unusual circumstances, but it would hardly be the first time that has happened. Most recently, the 1995 season started in late April after a months-long work stoppage wiped out the 1994 World Series and threatened to derail Cal Ripken Jr.'s consecutive games played streak.
Twenty-five years later, Major League Baseball is shut down due to the coronavirus, and a timetable to get back to action is unclear. MLB is reportedly considering multiple scenarios to get the 2020 season underway, including playing entirely in Arizona and playing at spring training sites in Arizona and Florida.
If a similar situation were to have come up during his consecutive games streak, would Ripken have wanted to play a season in such an unusual way? The short answer, according to Ripken, is yes.
"There are challenges in any plan that's going to happen now. We're in an area that we've never been before and we're trying to figure it out," Ripken said on Glenn Clark Radio April 14. "So my analytical mind would say, 'God, what are all the hurdles? What are all the challenges that you have to meet in order to have a season?'