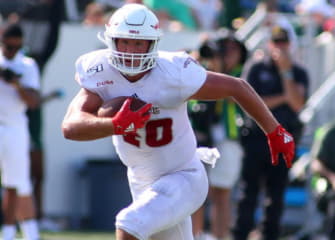 NFL teams meeting with individual players are a significant part of the draft process. These meetings can happen at the NFL Scouting Combine, pro days, the Senior Bowl, the East-West Shrine Game or a private workout.
For fans following the process, these meetings are sort of like poker tells for the draft, as they indicate what positions a team could be focusing on. Do teams draft players they haven't met with? Yes, they do. It happens all the time (like Lamar Jackson), but they have often spoken to other players at that position.
Who have the Baltimore Ravens met with so far? Check out the list at WalterFootball.com.
So far, teams have had access to players at the East-West Shrine Game, the Senior Bowl and at the Combine. With in-person meetings and pro days being shut down, finding out who the Ravens met with became a tad harder. Therefore, I asked the Twitterverse who they want me to profile. Next up is Florida Atlantic tight end Harrison Bryant. Let's get to know him better.