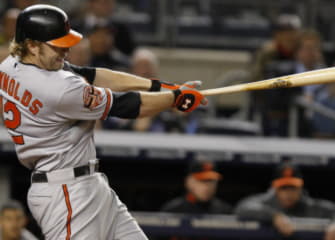 Former Orioles infielder Mark Reynolds, who recently announced his retirement from baseball, says the 2012 season in Baltimore is probably the favorite season of his career — and he has no shortage of reasons as to why that's the case.
After he was released by the Colorado Rockies last summer, the 36-year-old Reynolds said he enjoyed being home with his wife and kids, and he wavered on whether to continue his career or retire. He concluded around Christmas that he would hang up his spikes for good, ending a career that spanned 13 years, featured eight teams and produced 298 home runs.
Reynolds, a native of Virginia Beach, Va., and graduate of Virginia, was drafted by the Arizona Diamondbacks in the 16th round of the 2004 MLB Draft. After a four-year stint with the D-Backs from 2007-2010, Reynolds was traded to the Orioles for right-handed reliever David Hernandez in December 2010 to solve the club's third base riddle.
Reynolds played a role in the Orioles' improbable run of success in 2012, when they finished 93-69 overall. It was Baltimore's first winning season and playoff run since 1997.