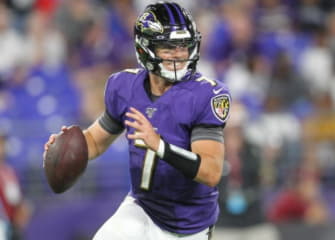 Ravens quarterback Trace McSorley, who was inactive for all but one game as a rookie in 2019, says that although he's open to contributing however possible to help out the Ravens in the near term, his long-term goal is to be a starting quarterback in the NFL.
McSorley, who was drafted out of Penn State in the sixth round of the 2019 NFL Draft, sat behind Lamar Jackson and primary backup Robert Griffin III in 2019. McSorley was active for the Ravens' regular-season finale against the Pittsburgh Steelers, rushing one time for a yard. McSorley completed 56.7 percent of his passes for 533 yards, four touchdowns and two interceptions during the preseason.
With Jackson and Griffin ahead of him on the depth chart, playing time again figures to be tough to come by for McSorley in 2020. What would he think about being used outside of the role of a typical quarterback, much like Taysom Hill with the New Orleans Saints?