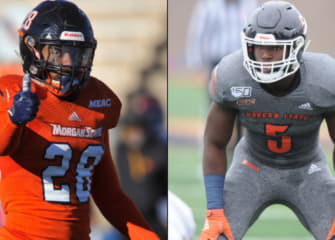 Though the COVID-19 pandemic has halted all sports activities, Morgan State football players Rico Kennedy and Ian McBorrough say they can't worry about decisions out of their control.
Kennedy and McBorrough, two linebackers for the Bears, were set to head to Miami for the NFL's first-ever HBCU scouting combine scheduled for March 27-29. However, because of guidelines related to the COVID-19 pandemic, they were not able to work out in front of scouts.
Kennedy was upset when he heard the combine was canceled, but says the outbreak is bigger than football.
"I was down at first, but my wife was telling me it's all part of a bigger plan and whether it happens or not, I should still be proud," Kennedy said. "I'm still going to have my wife and two daughters, my mom, my dad. It's bigger than football right now. … It's not just happening to me; it's happening to everybody that has been affected by this. I was down for a minute, but life goes on and you got to prepare for whatever that's going to happen next."