First Units Scheduled to Deliver at Nats Park Waterfront February 2020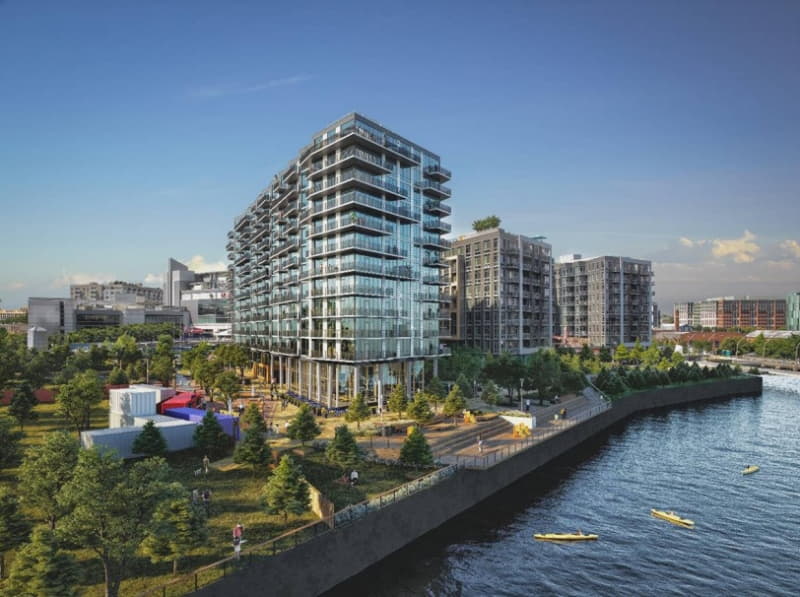 MRP Realty, developers of commercial, residential, industrial, and mixed-use real estate across the Washington Metropolitan region, and FRP Development Corporation announced today the partnership signed a Property Management Agreement with KETTLER to manage Maren, a mixed-use apartment building in the District's Capitol Riverfront. Maren, currently under construction, is located between Nationals Park and the SE Waterfront with stunning 360-degree views of the Anacostia River and the national monuments.
"The area surrounding Nationals Park in the Capitol Riverfront submarket is a premier gateway to this dynamic neighborhood," said John Begert, Principal at MRP Realty. "We already see high demand for both the location and Maren's robust suite of amenities. With KETTLER's local market knowledge, we feel the lease-up will be swift."
Maren will feature unobstructed waterfront views of the Anacostia River along with the high-end finishes, amenities, and the outstanding customer experience for which KETTLER is known.
"We look forward to continuing our partnership with MRP Realty and Florida Rock and building on the outstanding success of Maren's sister property, Dock 79," said Robert Grealy, Executive Vice President of Operations at KETTLER.
Maren comprises 264 units of spacious studios, one-bedroom, two- and three-bedrooms with spacious balconies and floor-to-ceiling windows. The interiors are enhanced with Brizo plumbing fixtures with touch faucets, upgraded custom Woof Shelving in bedroom closets, smart thermostats, LATCH Unit entry locks offering remote access from smart phones, gas cooking ranges, custom wood-paneled dishwashers, and modern Architectural Ceramics® tile in kitchens and bathrooms throughout. Secure and convenient garage parking is available.
Common area amenities include an expansive roofdeck with a sun-drenchedswimming pool, loungers, Viking grills, fitness center with yoga room, and a contemporary lounge with a fully equipped bar,indoor fireplace, and a Nano wall that opens out onto the pool deck. On the second level is a MakeOffices Lounge outfitted with all the work-from-home needs and rentablework suites. Right off the ground floor lobby is "The Bend," a 6,500-square-foot light-filled, double-height event space -- built with bar, full kitchen and back of house prep area -- right off the lobby offered for rent to residents and the public for private events.
Offering access to upscale dining and retail options on the ground floor is an activated plaza with direct connection toDock79 and upscale dining at hot spots All-PurposePizzeria, The Salt Line, and DACHA.
Pre-leasing is currently underway with first move-ins scheduled for February 2020. For more information on this future waterfront community, visit themaren.com.
About MRP Realty
Founded in 2005, MRP is a real estate operating company focused on opportunistic and value-add investment in the Washington, DC, Washington, D.C., Maryland, Virginia, Pennsylvania, New York City, and Nashville. Since the firm's inception, MRP has been among the most active local investors in office, multifamily and land investment, deploying $4.9 billion (total capitalization) in the Washington, DC, Maryland, Virginia, Philadelphia, New York, and Nashville markets – an average of over $303 million per year. MRP has a current interest in 14.5 million square feet of existing or under construction properties with land interests totaling over 10.2 million square feet. MRP was ranked as the third most active developer in the Washington, DC, metropolitan area in 2014 according to the Washington Business Journal and has consistently remained in the top ten since.
MRP provides to its institutional capital partners a full array of real estate services including acquisition/disposition, development/construction management, property management and asset management services, and financial reporting services. MRP focuses on strategic investment opportunities in both high barrier-to-entry submarkets and high growth submarkets.
About FRP Development Corp.
FRP Holdings, Inc. was formed in 1986 as a result of a spin-off of the real-estate and transportation businesses of Florida Rock Industries, Inc. (now a wholly owned subsidiary of Vulcan Materials). We were known as Patriot Transportation Holding, Inc. (NASDAQ ticker symbol "PATR") for many years until December 4, 2014 when we changed our name to FRP Holdings, Inc. (NASDAQ ticker symbol "FRPH") in anticipation of the spin-off of our transportation business. This spin-off occurred on January 30, 2015. Today, through our two operating subsidiaries, FRP Development Corp. and Florida Rock Properties, Inc., we operate as a pure "full service" real-estate company with three distinct real-estate businesses: developed buildings, mining and royalty lands and developed lands.
About KETTLER
KETTLER is an award-winning, multifamily developer, real estate investment, and property management company. Founded in 1977, the company has developed over 20,000 multifamily units, 5 million square feet of commercial space, more than 46,000 homes in 25 master-planned communities, and many of the D.C. Region's premier mixed-use communities. Headquartered in McLean, Va., the company manages approximately 20,000 apartments in the Northeast, Mid-Atlantic, and Southeast regions. For more information, visit www.KETTLER.com.