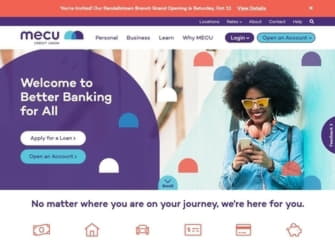 WHAT: MECU Credit Union, local officials, community leaders and MECU members will celebrate the grand opening of MECU Credit Union's new Randallstown branch with a ribbon cutting ceremony and community celebration event.
WHO:
John Hamilton – MECU Credit Union, President and CEO
Julian Jones – Baltimore County Councilman
House Speaker Adrienne Jones – Maryland State Legislature
Delegate Benjamin Brooks – Maryland State Legislature
Delegate Jay Jalisi – Maryland State Legislature
Mary Clay – Baltimore County Executive's Office of Community Engagement
Petey Anthony – U.S. Congressman C.A. "Dutch" Ruppersberger's Office
Liberty Road Volunteer Fire Company
Randallstown community leaders and members
Singing Sensations Youth Choir
WHEN: Saturday, October 12, 2019 | 10 a.m. – 12:30 p.m.
10 a.m. – Opening remarks and check presentation to Liberty Road Volunteer Fire Department
10:20 a.m. – Ribbon cutting ceremony and performance by Singing Sensations Youth Choir
10:35 a.m. – Community celebration with kids' zone and giveaways

WHERE: MECU Credit Union Randallstown Branch, 8700 Liberty Road, Randallstown, MD 21133
ADDITIONAL:The event will begin with special remarks from local officials, a donation from MECU Credit Union to the Liberty Road Volunteer Fire Company and Singing Sensations Youth Choir, and a ribbon-cutting ceremony. Immediately following the ceremonies, MECU Credit Union will hold a community celebration with food, games, prizes and a kids' zone. For every new account opened on October 12, MECU will donate $10 to the Liberty Road Volunteer Fire Company.
Singing Sensations Youth Choir is a non-profit organization for students ages 5-18 in the Baltimore Metro Area. The choir has an extensive repertoire and performs throughout the country. They will be performing multiple songs, including their viral cover of "Rise Up".
The Randallstown branch will expand MECU Credit Union's presence in Baltimore County, allowing the credit union to serve more members and provide the community greater access to affordable financial services, free financial education resources and a new ATM.
About MECU:
Established in 1936, MECU is Baltimore City's largest credit union, with assets of approximately $1.2 billion. MECU has ten branches throughout the Baltimore area and offers a full range of financial products and services for individuals and businesses. The credit union also provides access to over 30,000 free ATMs and top-rated online and mobile banking services. MECU Credit Union has distinguished itself in the Baltimore community by returning nearly $100 million in profits to its members as part of a special dividend program. Learn more about becoming a member at www.mecu.com.