New solar panels installed on both campuses were made possible by a generous grant from the Lockhart Vaughan Foundation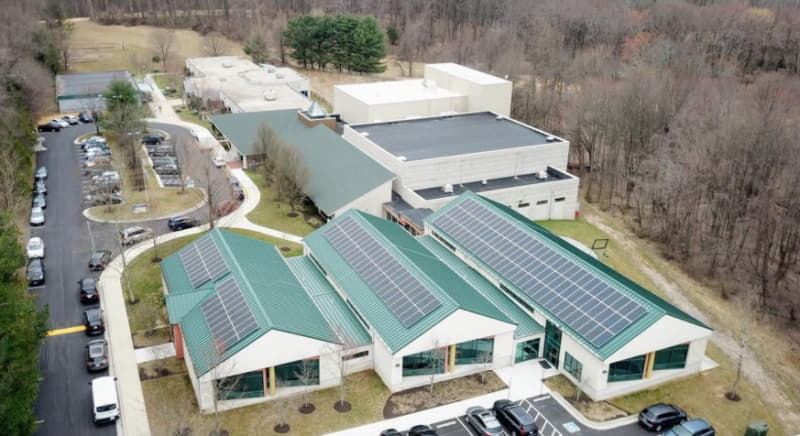 Jemicy School, which educates above-average to gifted college-bound students with dyslexia or other language-based learning differences, has recently installed solar panels at its two campuses in Owings Mills as part of the school's green initiatives. The installation was made possible by a generous grant from the Lockhart Vaughan Foundation, which aims to promote sustainability and environmental responsibility and help schools reduce their carbon footprint.
This past winter, 307 panels were installed at Jemicy – a 63.6 kW photovoltaic array consisting of 177 panels (360 watts each) on the Upper School Campus, and a 48.1 kW photovoltaic array consisting of 130 panels (370 watts each) on the Lower/Middle School Campus; the system became operational in April. The solar arrays are estimated to generate 137,270 kWh (in the first year) and offset 78 tons of CO2. In addition, the project will create significant savings for the School by generating renewable energy credits (SRECs) valued at $7,550 (in the first year). The SREC plus the yearly electricity savings will decrease Jemicy's energy costs overall by approximately 15 percent over the next 10 years. The panels' performance can be monitored from the real-time solar dashboard on Jemicy's website, as well as displays in the lobby of each campus.
"We are thrilled to partner with an organization like the Lockhart Vaughan Foundation that shares our vision of educating our communities about the dangers of severe climate change and the benefits of renewable energy," said Ben Shifrin, Head of Jemicy School. "We believe the solar panels will be a fantastic extension to our current environmentally friendly initiatives."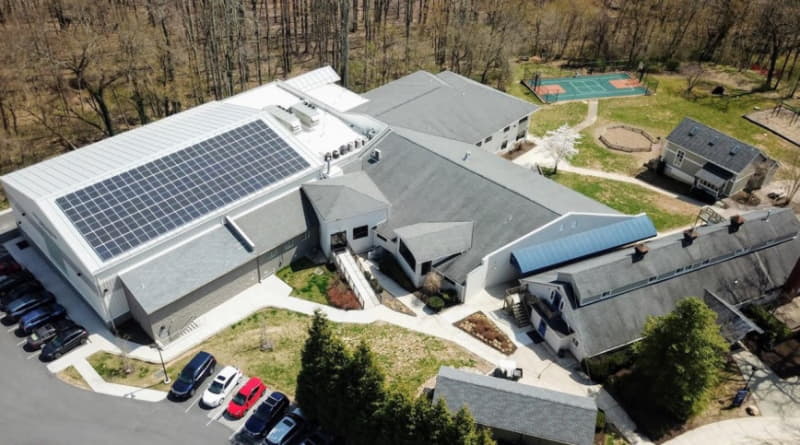 As an AIMS accredited school, Jemicy accepts its responsibility "to cultivate in all members of the school community an attitude of environmental responsibility, to embrace sustainable campus practices, and to promote student learning of environmental sustainability in the classroom, on the campus grounds, in the surrounding watershed, and within the wider world."
Jemicy will incorporate its partial conversion to solar energy into its curriculum so that the school community will increasingly understand the need for and the advantages of alternative energy solutions. New units of study in math, science, and social studies will consider and calculate energy collection and usage; utility costs; environmental benefits; societal issues; and more. Extra-curricular activities will offer increased opportunities for students to engage in reducing the school's carbon footprint.
Jemicy has a history of being an environmentally conscious school. In addition to its ever-expanding curricular integration, clubs, and community service endeavors, the school's facilities offer further examples of its attention to green initiatives:
Recycling programs on both campuses
LED lighting and motion detector light switches
Upgraded roof insulation
HVAC systems supported by circulation fans and programmable thermostats
Gas-fired rooftop heating units
Geo-thermal system controlling HVAC in portion of the Upper School Campus

About Jemicy School
Jemicy School, founded in 1973, provides a highly individualized, flexible, and challenging education for above-average to gifted college-bound students with dyslexia or other related language-based learning differences. A recognized leader in the field of education, Jemicy is the first school in the country to be accredited by the International Dyslexia Association. Jemicy educates students between the ages of six and eighteen on two campuses. The Lower and Middle School and the Upper School are each based in Owings Mills, Maryland just a short distance from one another. For more information, please visit www.jemicyschool.org.