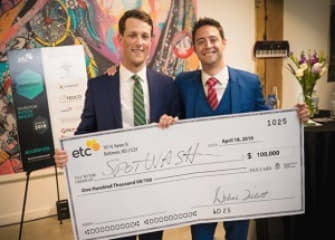 SpotWash, an app-based mobile car wash and detail service, picked up $100,000 in seed funding at Accelerate Baltimore's investor pitch night earlier this month.
The company was chosen for the additional funding from the Abell Foundation by a panel of judges at the April 18 event, which closed out the ETC-run accelerator program's latest cohort.
Founded by Freddie Ephraim and Mike Laroque, SpotWash offers a service that allows tenants with cars in parking garages at businesses, apartment complexes and condos that are partnered with the company to get their car washed and detailed while they are asleep, or at work. To schedule a car wash in the app, users find their building, select the date and time of service and pay. To complete the car wash, the company uses a rinseless solution, which is eco-friendly.
READ FULL ARTICLE HERE