Jemicy School One of Only Eight Schools in the Nation to Receive Coveted Invitation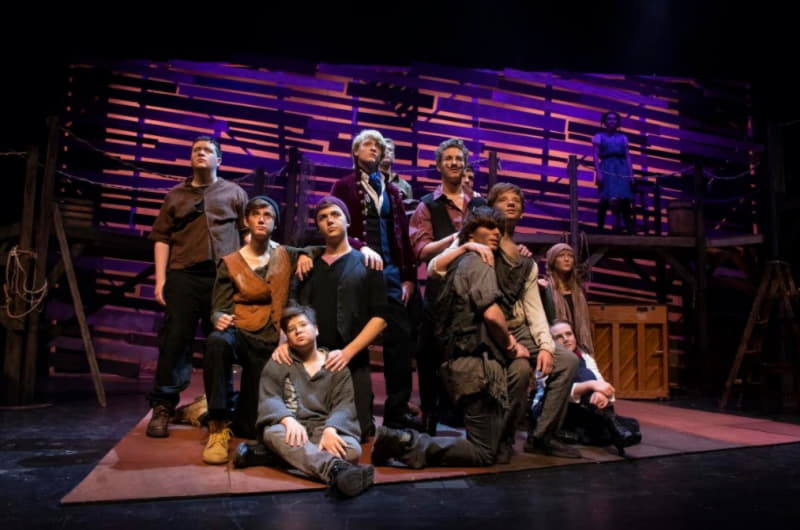 Jemicy School, home of International Thespian Society Troupe 8269 has been invited to present their critically acclaimed production of Peter and the Starcatcher, directed by Sean Elias, at the nation's leading high school theatre festival. Eight schools or groups have been invited based on productions that were adjudicated last fall; three more will be invited this spring.
The International Thespian Festival, (ITF) produced by the Educational Theatre Association (EdTA), celebrates student achievement in the performing arts. The 56th event, which this year takes place June 24-29 in Lincoln, Ne., brings together more than 4,000 high school drama students and their teachers for a weeklong immersion in workshops; interaction with colleges, industry leaders, and Broadway professionals; and opportunities to be inspired by the best high school theatre in the nation.
Jemicy School, a private school that serves students with dyslexia and other language-based learning differences, earned a Send a Troupe to Festival grant in 2017, which is awarded only to schools that have never before participated in the International Thespian Festival. Now they are returning based on the strength of their performance. The highly coveted invitation signals achievement of superior work in theatre according to EdTA's Director of Educational Programs, Nancy Brown. "It is a real honor," she explains, "because we send screening teams out all across the U.S. and Canada during the school year and only 11 schools will be selected to present their shows on the main stage. These Thespian troupes have earned a slot among those honored few."
"I couldn't be more proud of what these kids have accomplished or more humbled that the Educational Theatre Association has recognized the talent, effort, and dedication to excellence our program strives to uphold here at the Jemicy School," said Sean Elias, Troupe Director and Chair of the Upper School Department of Performing Arts. "I look forward to returning to Festival and sharing the stage this summer with so many talented students and educators from around the world!"
About Jemicy School
Jemicy School, founded in 1973, provides a highly individualized, flexible, and challenging education for above-average to gifted college-bound students with dyslexia or other related language-based learning differences. A recognized leader in the field of education, Jemicy is the first school in the country to be accredited by the International Dyslexia Association. Jemicy educates students between the ages of six and eighteen on two campuses. The Lower and Middle School and the Upper School are each based in Owings Mills, Maryland just a short distance from one another. For more information, please visitwww.jemicyschool.org.
About the Educational Theatre Association, home of the International Thespian Society
The Educational Theatre Association is an international association with more than 135,000 active members. EdTA's mission is shaping lives through theatre education: honoring student achievement in theatre; supporting teachers by providing professional development, resources, and recognition; and influencing public opinion that theatre education is essential and builds life skills. EdTA is the home of the International Thespian Society, an honorary organization established at nearly 5,000 schools, that has inducted more than 2.3 million theatre students since its founding in 1929. EdTA also produces the International Thespian Festival and publishes Dramatics magazine in print and online for high school theatre students, andTeaching Theatre, a journal for theatre education professionals. The Educational Theatre Foundation is the philanthropic arm of EdTA.