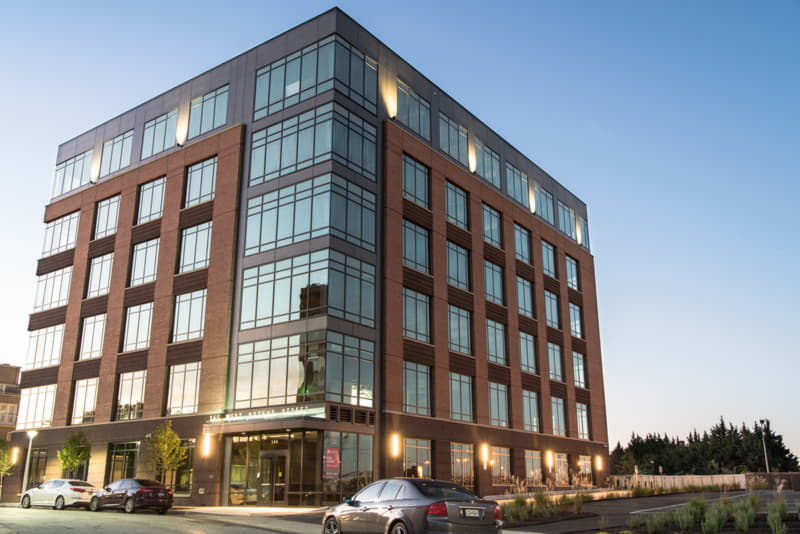 National Construction and Technology Firms Set to Open First Baltimore Office Locations
First of Three Planned Stadium Square Office Buildings Now 75% Leased
Caves Valley Partners' (CVP) Stadium Square development continues to gain momentum as Bethesda, MD-based Clark Construction Group, LLC and Malvern, PA-based Ricoh USA, Inc. have signed leases for street level office space at 145 W. Ostend Street, which is now 75% leased.
Ricoh USA is taking occupancy of their space this month and Clark is currently building out their space and plans to move in by November. The new locations in Stadium Square represent the first Baltimore offices for both companies.
The two national companies join Janney Montgomery Scott, a national full-service financial services firm, EOne, a regional employee benefits provider and Spaces, an Amsterdam-born creative workspace provider, which has leased nearly 35,000 square feet of Class A office space at Stadium Square.
"We are pleased to welcome Clark and Ricoh into the tenant mix at Stadium Square," said Jon Schulman, Director of Leasing for CVP. "Having two national tenants, who are both 'best in class' in their respective fields, at street level at Stadium Square is an exciting development for this project."
"As a Maryland-based company with a long track record of successful public and private projects in Baltimore, adding a dedicated Baltimore office reflects our long-term commitment to the region," said Brian Abt, Mid-Atlantic Division President with Clark Construction. "Our new offices in Baltimore will further enhance our ability to serve our diverse client base in the Greater Baltimore area and beyond."
"Moving our Baltimore area office to this new facility is part of our nationwide initiative to invest in and modernize our network of U.S. offices to better serve our customers," said Glenn Laverty, Senior Vice President of Marketing, Ricoh Americas, and President & CEO of Ricoh Canada Inc. "We are implementing collaborative new world of work technologies to continually increase employee collaboration and enhance the customer experience."
Jon Schulman represented CVP in both transactions. Rob Maddux and Claire Berrang of Newmark Knight Frank represented Ricoh, USA and Clark Construction Group represented themselves in negotiating the lease agreement.
| About Clark Construction |
American owned and operated since 1906, Clark Construction Group, LLC, has grown from a small excavating company to one of the nation's most experienced and respected providers of construction services. With annual revenue in excess of $4 billion, Clark is consistently ranked among the country's largest general building and civil construction companies. The firm's portfolio features projects of all sizes and levels of complexity – from intricate interior renovations to some of the most complex civil operations in the country. For more information, please visit www.clarkconstruction.com.
| About Ricoh |
Ricoh is empowering digital workplaces using innovative technologies and services enabling individuals to work smarter. For more than 80 years, Ricoh has been driving innovation and is a leading provider of document management solutions, IT services, commercial and industrial printing, digital cameras, and industrial systems.
Headquartered in Tokyo, Ricoh Group operates in approximately 200 countries and regions. In the financial year ended March 2018, Ricoh Group had worldwide sales of 2,063 billion yen (approx. 19.4 billion USD). For further information, please visit www.ricoh.com
To learn more about Stadium Square and leasing opportunities please visit www.stadiumsq.com.
Stadium Square Project Summary:
375,000 SF of Class A office space
50,000 SF of ground level retail
600 luxury apartments
Renaissance of 3 complete city blocks, between Federal Hill and M&T Bank Stadium, located a block and a half west of the Cross Street Market redevelopment
Technology – high-speed fiber optic connection to TierPoint Data Center providing best-in-class internet service and pricing
Garage parking for nearly 2,000 cars
Walk Score of 93
Soon-to-be revitalized Solo Gibbs Park will become a premier neighborhood amenity
Highly visible tenant signage opportunities
Public infrastructure improvements with repaired subsurface utilities and coordinated streetscape improvements
Construction of the Leadenhall Community Center