14th annual After d'Arc Gala features a night of Bond, 007 style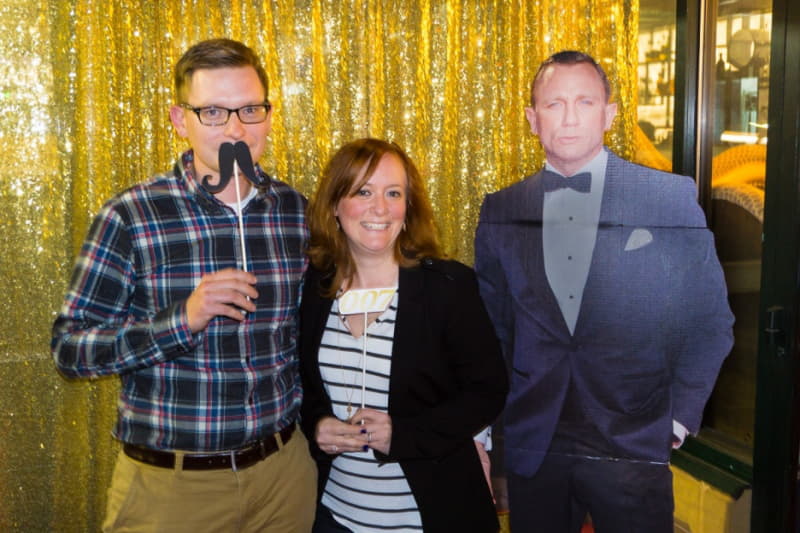 re-event party attendees Matthew and Katie Hargrove experienced a taste of the James Bond gala festivities.
The Arc Northern Chesapeake Region (The Arc NCR) is proud to announce its 14th annual After d'Arc Gala, "License to Give: A Night of Bond 007 Style" taking place on Saturday, April 7, 2018 from 7 – 11:30 p.m. at Maryland Golf & Country Clubs, located at 1335 E Macphail Road in Bel Air.
The gala, The Arc NCR's largest fundraiser of the year, raises funds to support the nonprofit's mission to empower people with differing abilities to live, work and play in Harford and Cecil Counties. The evening begins with an exclusive VIP reception for top sponsors, followed by an elegant dinner and martinis (shaken, not stirred), a silent and live auction and dancing with music from The Klassix.
In true Casino Royale fashion, attendees can also enjoy blackjack and Let It Ride tables from B&B Casino Party Pros. The casino features light jazz and Bond movie soundtrack hits played live from "Chris Sengstacke and Friends." Another option to gamble for a good cause is to purchase raffle tickets and/or select jewelry courtesy of Saxons Diamond Centers. Diamonds are forever – the grand prize is a pair of ½ carat diamond stud earrings (1 carat total in weight), valued at $3,150!
Perhaps the best reason to give, just give, is this year's annual "Fund the Need" campaign focusing on renovating The Arc NCR's supported living homes to make them more accessible for the adults supported by the organization. Needs include an accessible bathroom, kitchen and entrance/exit accommodations.
The need for accessible housing is dire. The Arc NCR has to turn away individuals whose dream is to live in a home of their own due to a lack of accessible housing in Harford County. In addition, there are current individuals in the supported living program with mobility issues in their homes, as well as individuals who wish to "age in place," but cannot remain in their home unless it is updated. The Arc NCR's goal is to raise $25,000 for accessibility needs.
"Accessible housing shouldn't be an expensive luxury that only a few can afford, but should be obtainable for those individuals we support, as well," says The Arc NCR's Director of Supported Living, Steve Adams. "It is a basic human right. We all want to enjoy and be able to freely move about our homes…our vision, with the community's help, is for our region to be a national leader in the provision of accessibility for people with differing abilities."
Sponsorship opportunities are still available, and tickets can be purchased for $150 at afterdarc.org. Jewelry and raffle tickets can also be purchased online. Evening attire is requested. For more information, contact The Arc NCR's development office at 410-836-7177 or email development@arcncr.org.
The Arc NCR thanks this year's title sponsor, APG Federal Credit Union; jewelry sponsor, Saxon's Diamond Centers; presenting sponsors Aberdeen Rotary Club and Harford Mutual Insurance Companies; premier sponsors Benfield Electric, M&T Bank and Plaza Ford; web sponsor WebIXI; and ambassador sponsors Aberdeen IronBirds, Chesapeake Bank of Maryland, Dimensional Health Association, Harford County Government, IncrediTek, Morris & Ritchie Associates, Inc., Shaffer, McLauchlin & Stover, LLC; SIG; and Thompson Automotive.
About The Arc Northern Chesapeake Region
For sixty-five years, The Arc Northern Chesapeake Region has empowered people with differing abilities to live, work and play in our community by providing support services and advocacy to adults and children and their families in Harford and Cecil Counties. For more information, call 410-836-7177 or visit www.arcncr.org.