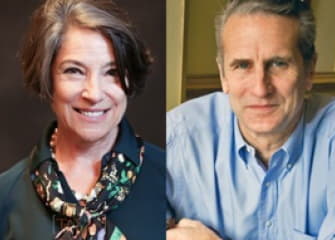 Deborah Tillett and Edwin Warfield
The Center Club and Edwin Warfield, publisher of Citybizlist and Warfield, have announced that the focus of the next City Genius event, being held on Wednesday, October 4 at The Center Club, will be on the role incubators, accelerators and innovation hubs are playing in the Baltimore and Maryland economy. Speakers will include Frank Bonsal III, director of venture creation at Towson University, Darius Graham, director of student ventures for Johns Hopkins Technology Ventures at The Johns Hopkins University, George Davis, CEO of TEDCO, and Henry Mortimer, director of the Center for Entrepreneurship and Innovation (CEI) at the University of Baltimore. The panel discussion will be moderated by Deborah Tillett, president and executive director of the Emerging Technology Centers (ETC).
"Baltimore has made itself home to incubators, innovation hubs and accelerators that are leading innovation and that have made significant contributions to the growth of the city, both economically and socially," says Edwin Warfield. "With our City Genius speaker series, our goal is to foster conversations that will lead to innovation and growth, and we are thrilled to have a panel of speakers who are working to incite growth on the ground level."
In addition to his role at Towson University, where he and the TU Incubator team support the largest cluster of edtech companies in Maryland, Frank Bonsal has over 15 years investing in education technology via Bonsal Capital and New Markets Venture Partners. Prior to this he was a full-time middle and high school teacher and coach. Today, Bonsal serves as a mentor or advisor to several education entrepreneurship organizations and is a frequent startup event participant. He has spoken extensively on entrepreneurship, education, and investing to a range of audiences.
Led by Darius Graham, As Director of Student Ventures at Johns Hopkins University, Darius Graham leads entrepreneurship and innovation initiatives that help transform new technologies and novel ideas into viable ventures. Among these initiatives are FastForward U, a suite of resources and network of innovation hubs for student entrepreneurs, and the Social Innovation Lab, an accelerator for social ventures led by students or community members.
George Davis is the incoming CEO of The Maryland Technology Development Corporation, otherwise known as TEDCO. Since its creation in 1998, TEDCO has been a leading provider of funding, mentorship, and networking opportunities for entrepreneurs, innovators, and early-stage companies in Maryland and beyond. The organization runs a broad range of programs focused on bringing groundbreaking ideas to life and forging business collaborations between Maryland's many science, technology, and educational institutions.
TEDCO's board of directors appointed George as CEO in June. Prior to joining the organization, George held leadership positions at a number of a investment, research, engineering, and technology firms, including GM3/Gamma 3, Gemstone Biotherapeutics, Perthera, Avatech Solutions/Rand Worldwide Inc, and Aether Systems.
With more than 30 years of experience in communications, Henry Mortimer founded Mortimer Communications in 2008 with the goal of helping startups and small businesses tell their stories. In addition to his new role as the director for the CEI, Mortimer serves as an entrepreneur-in-residence and mentor for the University of Baltimore and as an advisor for the Emerging Technology Centers (ETC) which works to promote economic growth by providing its member companies with the resources they need.
As president and executive director of the ETC, Deborah Tillett is responsible for the oversight and management of one of Baltimore's leading technology and innovation centers. In her role she works to provide guidance, leadership and resources to entrepreneurs working to grow their startups. Prior to joining ETC, Tillett served as president and co-founder of Immersive 3D, LLC, a technology start-up providing web-based 3D computer gaming solutions for K-20 education and offering contract-based technology services.
City Genius is a series featuring the most innovative minds in business and government in a variety of industries and sectors and aims to connect Baltimore leaders and foster conversation about the latest trends across industries. The program begins with a networking reception followed by the panel discussion.
A Video Conversation with Deb Tillett, President of ETC

The Center Club is a five-star platinum city club providing warm hospitality, impeccable service and unparalleled cuisine to Baltimore's emerging and established business, civic and non-profit leaders.
The networking reception will begin at 5 p.m. followed by the presentation at 6 p.m. Complimentary parking is available under the Transamerica building at the entrance located off Charles Street just north of Pratt Street. Tickets are $35 for Center Club members and are available through The Center Club website at www.centerclub.org. Non-members can purchase tickets for $54 on EventBrite at www.citygenius.eventbrite.com. An optional dinner with the speakers is available for an additional $85 following the presentation.