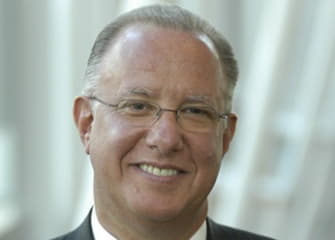 Ronald Paul
The chief executive officer of Eagle Bancorp received about a 16 percent increase in total compensation in 2016, according to the company's proxy statement filed Monday with the Securities and Exchange Commission.
Ronald Paul received $5.9 million in total compensation this year, up from his $5.1 million in compensation for 2015.
Paul's base compensation rose just about 2 percent to $906,743 for 2017. The rest of the total compensation will be reported later.
For the 2016 year, there was no bonus, $2.41 million in stock awards, $2.59 in plan compensation, and $106,187 in other compensation for a total compensation in 2016 of $5.972 million.
The increase in stock awards is a little over 40 percent. The plan compensation also rose over 45 percent.
Chief Financial Officer James Langmead saw his total compensation rise to $1.65 million from $1.5 million. Chief Lending Officer Antonio Marquez saw his total compensation rise to $1.36 million from $1.19 million.
Chief Operating Officer Susan Riel saw her compensation rise to $2.08 million from $1.97 million.
The Bethesda-based company is the parent of Eagle Bank, which has 21 locations in Maryland, Washington, D.C., and northern Virginia.
Eagle Bancorp stock opened at $59.95 on Monday, up from Friday's close of $59.70.