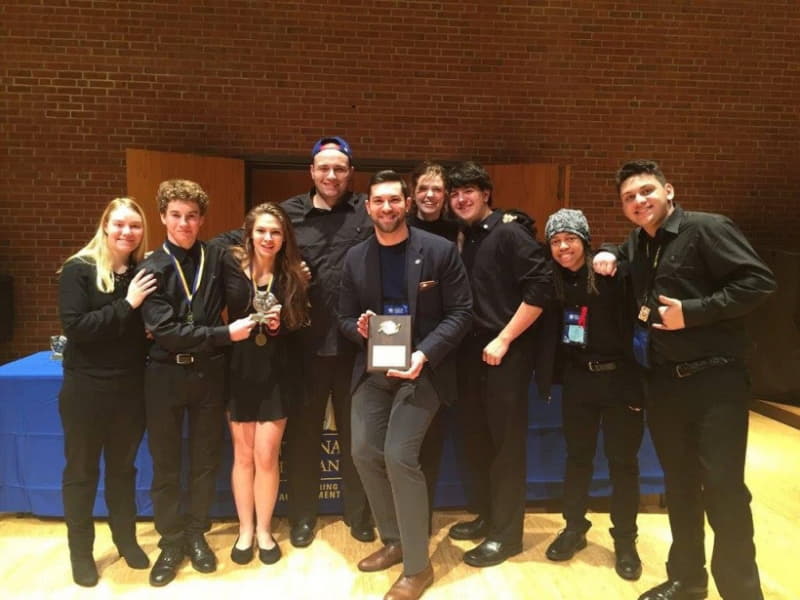 Jemicy group
Sean Elias, Jemicy's Upper School theatre arts teacher, and 13 talented students from Jemicy's International Thespian Society Troupe #8269 made history this month – not only by attending the Maryland State Thespian Festival for the first time, but also for the impressive accolades and recognition they received.
During this two-day theatre competition, over 700 high school students from across the state competed in individual events, took workshops, observed one-act performances, and enjoyed other festival-wide events.
The school, located in Owings Mills, racked up an amazing list of distinctions – sweeping the board with awards: Outstanding Production, Outstanding Physical Work, Best Actor and Best Actress for Proof. Jemicy was also the most represented school at the festival. The students earned three of five spots for the Closing Ceremony and eight students qualified for Nationals at the weeklong International Thespian Festival in June at the University of Nebraska, Lincoln.
About Jemicy School
Jemicy School, founded in 1973, provides a highly individualized, flexible, and challenging education for above-average to gifted college-bound students with dyslexia or other related language-based learning differences. A recognized leader in the field of education, Jemicy is the first school in the country to be accredited by the International Dyslexia Association. Jemicy educates students between the ages of six and eighteen on two campuses. The Lower and Middle School and the Upper School are each based in Owings Mills, Maryland just a short distance from one another. For more information, please visit www.jemicyschool.org.