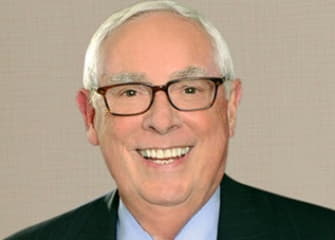 Benjamin Rosenberg
Rosenberg Martin Greenberg, LLP is proud to announce that the firm's Chairman, Benjamin Rosenberg, will be honored with the University of Maryland Francis King Carey School of Law's Distinguished Graduate Award at its Alumni Honors Banquet "A Celebration of LEADERSHIP" on December 1, 2016 from 6pm-9pm. The Distinguished Graduate Award honors a Maryland Carey Law graduate who has achieved prominence through professional excellence and service to the Maryland community.
Ben's co-founder of RMG, Managing Partner, Barry Greenberg, praised the standard that Ben established when starting the firm: "Ben set the tone for the firm as being one that recruited the highest quality of legal talent and staff who were first and foremost good people, respectful and supportive of their colleagues at the firm. In a business as competitive and challenging as a law firm, the ability to maintain a happy work environment, respectful of the individuals supporting the enterprise, is an essential ingredient in what Ben's vision and guidance created at RMG and provides a small glimpse into why Ben is such a worthy recipient of this honor."
Benjamin Rosenberg, the founder and current Chairman of Rosenberg Martin Greenberg, is recognized as one of the preeminent litigators in Maryland. He handles major cases in state and federal trial courts and has argued many significant appeals. Ben is a fellow of The American College of Trial Lawyers and the Maryland Bar Foundation. He was named one of Maryland's top litigators in Chambers USA: America's Leading Lawyers for Business and is one of Maryland's top commercial litigators in Best Lawyers in America. He was also recognized as one of the top ten lawyers in Maryland in the 2007, 2010, 2011, and 2015 editions of Maryland Super Lawyers. Ben represents clients in appeals and business, antitrust and contract disputes and is also an accomplished mediator and arbitrator. He is a member of ADR Maryland, an elite panel of Maryland attorneys who serve as alternative dispute resolution neutrals.
Ben served on the Appellate Judicial Nominating Commission of Maryland from 1995 through 2014 and has previously served on the Judicial Compensation Commission of Maryland and the Review Board of the Attorney Grievance Commission. He is currently a Director, Trustee and Vice-Chair of the Board of Trustees for the Enoch Pratt Free Library, as well as serving as Secretary and Member of the Executive Committee of the Baltimore Jewish Council. He is a past member of the Board of Governors of the Maryland State Bar Association and was formerly Co-Chair of the Maryland Legal Aid Bureau's Equal Justice Council. He is also a former Board Member of The ASSOCIATED: Jewish Community Federation fo Baltimore, a former Trustee of the Walters Art Museum and founded the William T. Walters Associates, and was a former Trustee of Bryn Mawr School.
About Rosenberg Martin Greenberg, LLP
Rosenberg Martin Greenberg is a full-service business law firm headquartered in Baltimore, Maryland, with offices in Annapolis, Maryland and Wilmington, Delaware. We advise entrepreneurs and organizations on an extensive range of issues that drive their success. Our core practice areas are business litigation, real estate, business planning & transactions, commercial lending, tax & wealth planning, creditors' rights and tax controversy. Our attorneys are committed to providing our clients exceptional, efficient service that makes a difference. Visit us at www.rosenbergmartin.com, www.rosenbergmartin-tax.com or www.rosenbergmartin-lenders.com.