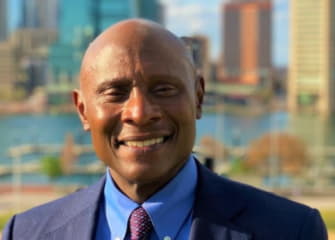 Bob Wallace
New Campaign Ad to Air on Local Networks Leading up to Election Day
Baltimore mayoral candidate Bob Wallace, the first ever independent candidate to be on the ballot, released a new television advertisement, "Love Story," on Tuesday, October 27, 2020. The ad is narrated by Carolyn Wallace, Bob's wife of 42 years. Together, Bob and Carolyn Wallace have raised five children and have eight grandchildren.
"I am honored to have the love and support of my wife and entire family as I have campaigned over the past months to become the next mayor of Baltimore," Wallace said. "We are at a pivotal time as we decide the fate of our city. We must work to end violent crime in our city, bring new jobs and opportunities to our residents and improve our schools so that our children have a fighting chance to compete and succeed in the future. We can make a real change in our city, but we must put people over profits, people over politics and people over party."
In the new campaign spot, Carolyn Wallace, who grew up in East Baltimore, talks about the special qualities that Bob Wallace would bring to the role of mayor as a fighter for those in need, a family man who understands the challenges that children and families face, and as an entrepreneur who can bring 100,000 new jobs and opportunities to Baltimore for all of its residents.
The 60-second "Love Story" TV spot is the latest in a series of Wallace for Mayor TV ads that will air on local TV networks in Baltimore. Wallace's ads are available on his Facebook, YouTube, Instagram, and Twitter pages.
You can view the ad here: WallaceLoveStory
About Bob Wallace
Bob Wallace is a native Baltimorean, an author, business owner, entrepreneur, and community leader. He was raised in the South Baltimore neighborhood of Cherry Hill, where he consistently overcame numerous social and economic obstacles and refused to accept failure and mediocrity. His rags-to-riches story led him to become a successful business leader with a 40-year proven track record of success. He is an internationally recognized author of numerous books on entrepreneurship, strategic partnerships, and spiritual development for executives. He utilizes his entrepreneurial expertise to mentor innovators and business leaders from around the world.
Bob wants what is best for the City of Baltimore and for his fellow residents. He is running for mayor to bring real and lasting change to Baltimore. He is not a career politician. His experience working for industry leaders such as IBM, DuPont and Procter & Gamble has made him an expert on economic development, strategic partnerships, emerging markets, and entrepreneurship. He is no stranger to community leadership at all levels and has worked on numerous commissions and boards, both locally and statewide. Bob is the founder of three Baltimore-based companies: BITHGROUP Technologies Inc., Bithenergy Inc., and EntreTeach Learning Systems LLC.
He previously served on the University System of Maryland Board of Regents, the Kennedy Krieger Institute, Greater Baltimore Committee, and Capital Region Minority Supplier Development Council. He has also served on the State of Maryland Information Technology Board, the Governor's Advanced Technology Commission, Small Business Task Force, Minority Business Task Force, the City of Baltimore Mayor's Coalition of Supplier Diversity and Inclusion, and Chair of The President's Roundtable.
Wallace is a proud graduate of the Baltimore Polytechnic Institute. He earned his Bachelor of Science in Mechanical Engineering and Applied Mechanics at the University of Pennsylvania and his MBA from the Amos Tuck School of Business at Dartmouth College.
As a passionate community leader and devoted church elder who believes in the intersection of spirituality and business success, Bob has built global relationships that have translated into profitable and socially impactful connections – exemplifying his personal mission, "Do Well While Doing Good."
For more information, visit www.WallaceforMayor.com.