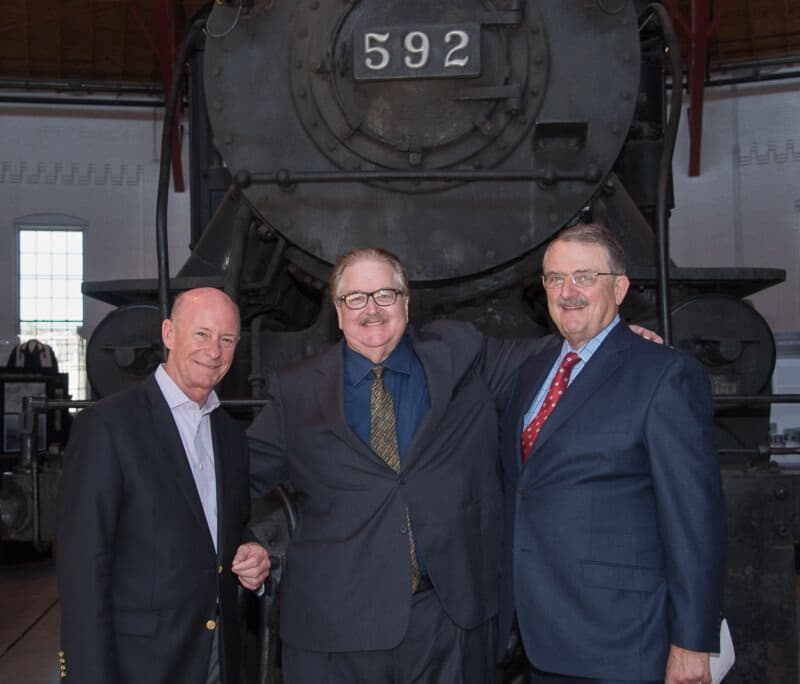 Courtney Wilson, B&O Museum; Jeff Hess, Ball USA; Steve Hammalian, Little Treasury
Maryland's Little Treasury Jewelers brought thirty-plus watch collectors, industry executives and railroad enthusiasts together at the B&O Museum to unveil the new Royal Blue watch commemorating the Royal Blue Line, once the finest daylight train service in the world. The limited edition of 233 watches, like an earlier limited Ball watch, The First Mile released in 2009,is licensed by the museum which will receive a portion of its sales.
The B&O railroad's Royal Blue line was the premier passenger service between Washington, D.C., Baltimore, and New York City which commemorated the first commercial railroad track in the United States, laid by the Baltimore & Ohio Railroad Company in 1827.
According to Steve Hammalian, co-owner of the Baltimore/Washington region's Little Treasury, "Getting the Ball Watch Company, creator of the Official Railroad Standard for time-keeping together with America's premier railroad museum and Smithsonian affiliate to do a second special watch was a natural. This will benefit the Museum and appeal to collectors; a goal of mine since The First Mile sold out very soon after Ball introduced it."
The Crofton-based retailer is one of the world's leading watch retailers according to International Watch Magazine. Hammalian from Little Treasury first developed the watch concept and convinced Ball and the museum to collaborate.
The First Mile watch commemorated the first commercial railroad track in the United States, laid by the Baltimore & Ohio Railroad Company in 1827. To many historians this marked the beginning of railroading in America, according to museum officials.
According to Courtney B. Wilson, Executive Director of the museum, "The partnership between Little Treasury, Ball Watch USA and the Museum brings the rich history of railroad time-keeping into the 21st century through America's most historic railroad, the B&O."
Jeffrey Hess, President, BALL Watch USA, agrees. "It is highly appropriate for BALL Watch to do this. The Museum hosts a collection of historic BALL timepieces, and founder Webster Ball was a pioneer in rationalizing timekeeping for American railroads. Today we honor him and the Baltimore & Ohio Railroad with this new timepiece."
The BALL Trainmaster B & O Royal Blue is a high-quality Swiss-made timepiece built on the respected SW220-1 COSC automatic mechanical movement, providing accuracy under adverse conditions such as those encountered by railroaders in the 1800s and 1900s. It includes Royal Blue on dial, the B&O Capitol Dome logo on crown, and image of 1937 Royal Blue streamliner crossing the Thomas Viaduct near Elkridge, MD. It is also designed to meet the Official Railroad Standards set by Webster C. Ball in 1891, while offering a stylish and affordable timepiece to railroad buffs and watch lovers alike.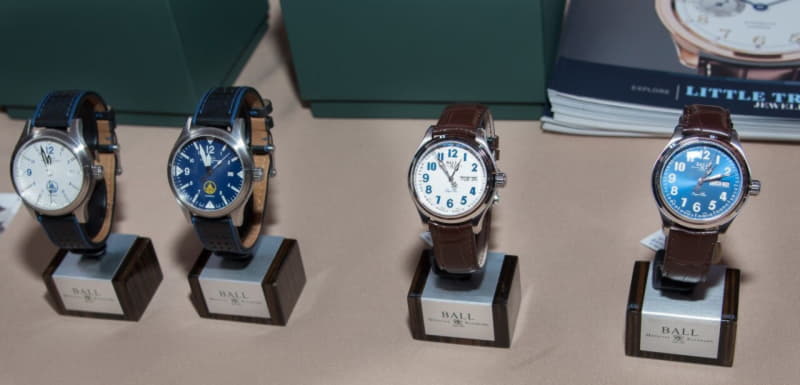 Ball First Mile and Royal Blue Watches for B&O Museum