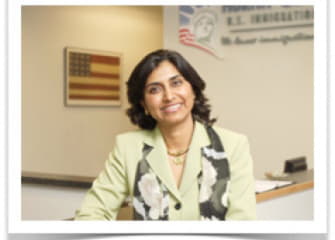 Sheela Murthy
Best Lawyers in America has recognized Sheela Murthy, Founder, President & CEO of the Murthy Law Firm, as among the Best Lawyers in America. The Murthy Law Firm is the world's pre-eminent U.S. immigration law firm headquartered in Owings Mills, MD, with approximately 100 professionals working to solve immigration law issues for major companies and businesses across the U.S. According to Best Lawyers®, their award is the most credible measure of legal integrity and distinction in the United States for over three decades and symbolizes excellence in practice. According to Best Lawyers®, inclusion is based on a rigorous peer-review survey comprising more than 7.3 million confidential evaluations by top attorneys. No fee of payment to participate in the survey which is offered to the best lawyers to select the very best lawyers from among their peers.
Best Lawyers® partners with The Wall Street Journal, The New York Times, The Los Angeles Times, The Washington Post, and The Chicago Tribune, and other regional, business, local and other publications, to recognize leading lawyers from across the U.S.
Sheela Murthy started The Murthy Firm over 22 years ago with the vision to transform the lives of those who are pursuing the American Dream of living in the United States, thereby enriching businesses and the global community. The Murthy Firm works with tech companies, energy companies, medical institutions, universities, insurance companies, and businesses in most other sectors, with the goal of bringing the best and brightest from across the globe to make America a greater and stronger nation. They have a west coast office in Seattle, WA and liaison offices in India at Chennai and satellite offices in Hyderabad and Mumbai.