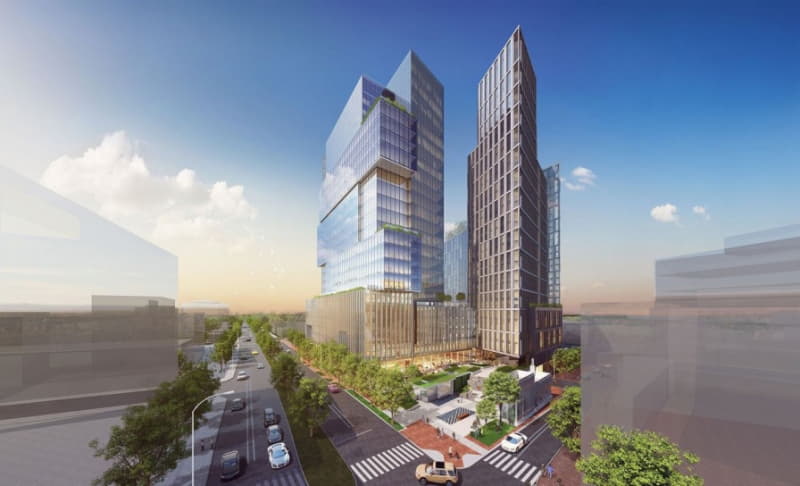 Carr Properties a leading owner, operator, developer and acquiror of high quality properties in the Washington, D.C. and Boston markets is pleased to announce it has finalized an approximately 59,000 square-foot lease with Walker & Dunlop at The Wilson for the remaining full floors (12-14), bringing the office tower, located at 7272 Wisconsin Avenue, to 100% leased. A premier commercial real estate finance company, Walker & Dunlop's decision to relocate its headquarters to the 362,643 square-foot office building
Designed with a state-of-the-art fitness center, private and shared outdoor terraces, and an advanced HVAC system that circulates 100% outside air throughout the building, The Wilson demonstrates Carr Properties' priority to offer customers an experience rooted in sustainability and wellbeing. The 23-story office building is part of a 940,000 square-foot mixed-use development, which also includes The Elm, a two tower residential development comprised of 456 apartments.
Nestled above 12,000 square feet of best-in-class retail, an outdoor plaza, and entrances to the Purple Line Metro, Red Line Metro, and Capital Crescent Trail, The Wilson and The Elm will be the Bethesda metro's commercial nexus and transportation hub, all while setting a precedent for healthy buildings through robust technology and preventative health and safety measures. Boston's coveted Tatte Bakery & Café is just one retail customer slated to bring their warm, welcoming atmosphere and seasonal menus to The Wilson and The Elm's ground-floor, providing customers easy access to carefully sourced, fresh meal options.
Oliver Carr III, CEO of Carr Properties, comments: "We are thrilled to welcome Walker & Dunlop as a valued customer at The Wilson. Having Walker & Dunlop choose The Wilson as their future headquarters speaks to the best-in-class quality of this project. Now more than ever a building's health and wellness qualities are critically important considerations in customers decision making process. It was a pleasure working with the Walker & Dunlop and CBRE teams to achieve a successful outcome for all parties. I am also extremely proud of the efforts from the Carr Properties and Transwestern leasing teams to complete the leasing of The Wilson prior to completion of the development."
"Culture and creativity happen in the office. As a high growth company that is known for its phenomenal customer service and vibrant corporate culture, Walker & Dunlop is extremely excited to create our new corporate headquarters in Carr's gleaming new Media Contact: Mitzi McNair 202.406.0006 mmcnair@carrprop.com lkay@carrprop.com building in Bethesda, Maryland," stated Walker & Dunlop Chairman and CEO Willy Walker. "Transwestern, Carr, and Walker & Dunlop's representative, CBRE, led by Louis Christopher, did a tremendous job making our new corporate headquarters a reality."
Transwestern Executive Co-Directors Phillip McCarthy, Keith Foery and Senior Vice President Erin Kurucza represented Carr Properties, which was led by Senior Vice President Jackson Prentice and Vice President Kaitlyn Rausse. Walker & Dunlop were represented by CBRE Vice Chariman Lou Christopher, Senior Vice Presidents Brad Wilner and Charlie Carroccio.
"Throughout the COVID-19 pandemic, Walker & Dunlop were incredibly forward thinking," said McCarthy. "They used this time to pave the way for themselves to be regarded as independent thinkers and leaders in the multifamily finance and capital markets."
Walker & Dunlop joins a list of notable customers, including FOX 5 DC, ProShares, WeWork, Enviva Partners, and UBS Group, that will benefit from the live-work environment of The Wilson and The Elm. Primed to be leaders in their industry through the supportive, connective nature of The Carr Experience, these customers will create a unique tenant ecosystem that reinforces the impact of the building and creates connectivity to the significant Bethesda arteries of Wisconsin Avenue and substantial retail at Woodmont Avenue.
About Carr Properties
Carr Properties is a privately held real estate investment trust that owns, manages, acquires, and develops high-quality properties in Washington, D.C. and Boston, Massachusetts. The company currently owns a portfolio of 14 commercial office properties totaling approximately 4.4 million square feet and maintains a pipeline of five development projects that will add a further 2.4 million square feet of trophy-quality office space to the company's portfolio. Carr Properties continues to expand through strategic investments in the Washington, D.C. and Boston, Massachusetts areas.
About Walker & Dunlop
Walker & Dunlop (NYSE: WD), headquartered in Bethesda, Maryland, is one of the largest commercial real estate finance companies in the United States. The company provides a comprehensive range of capital solutions for all commercial real estate asset classes, as well as investment sales brokerage services to owners of multifamily properties. Walker & Dunlop is included on the S&P SmallCap 600 Index and was ranked as one of FORTUNE Magazine's Fastest Growing Companies in 2014, 2017, and 2018. Walker & Dunlop's 900+ professionals in 40 offices across the nation have an unyielding commitment to client satisfaction.
About Transwestern Real Estate Services
Transwestern Real Estate Services (TRS) adds value for investors, owners and occupiers of all commercial property types through a comprehensive perspective and by providing solutions grounded in sound market intelligence. Part of the Transwestern companies, the firm applies a consultative approach to Agency Leasing, Asset Services, Tenant Advisory + Workplace Solutions, Capital Markets, and Research & Investment Analytics.