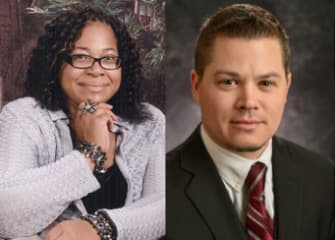 Jennifer Jones and Christian Roop
Jennifer Jones and Christian Roop join Howard County Community Leadership Board
The Y in Central Maryland is pleased to announce the addition of Jennifer Jones and Christian Roop to its Howard County Community Leadership Board. The Board promotes and supports the Y's mission and programs in the local community, and raises funds to support the Y's community outreach activities and scholarship programs.
Jones works as an assistant director with data management duties and responsibilities at the United States Department of Agriculture (USDA), where she has held multiple positions over the years. She also develops activities and career training seminars for current summer interns, tutors school-aged children in math and actively volunteers with children at her church. Jones' undergraduate education was fully funded by a USDA 1890 Land Grant Institution Scholarship at Fort Valley State University in Georgia, where she received her Bachelor of Science in plant science biotechnology and a minor in economics. She also received a partial USDA scholarship for her Master of Arts in economics at Virginia State University.
Roop joined Howard Bank in Ellicott City, Md., as the marketing analyst in 2015. Prior to this, he was employed with the Carroll County Government and Aerotek Staffing. He has more than 15 years of business experience and seven years of marketing experience. Roop graduated from Barton College in North Carolina with a dual Bachelor of Science in business administration and sports management, as well as dual minors in marketing and management. He received a Master of Business Administration in marketing from Strayer University. Roop is a lifelong member of Sigma Phi Epsilon fraternity and an active member of Keysville Lutheran Church in Keysville, Md. He resides in Hanover, Pa., with his wife and two children.
Our Mission:
The Y in Central Maryland is a charitable organization dedicated to developing the full potential of every individual through programs that build healthy spirit, mind and body for all.
Our Commitment:
At the Y, we are committed to providing family-oriented, affordable, high quality programs.
A cause driven organization with three areas of vital focus:
For Youth Development: nurturing the potential of every child and teen
For Healthy Living: improving our community's health & well-being
For Social Responsibility: giving back and providing support for our neighbors

The Y is a place for everyone. People of all races, ages, faiths, gender, abilities, backgrounds and incomes are welcome and financial assistance on a sliding scale is available to those who would otherwise be unable to participate.
Our Values:
Caring, Honesty, Respect and Responsibility
More information can be found at www.ymaryland.org.