Splash Pad to be the first of its kind in Westminster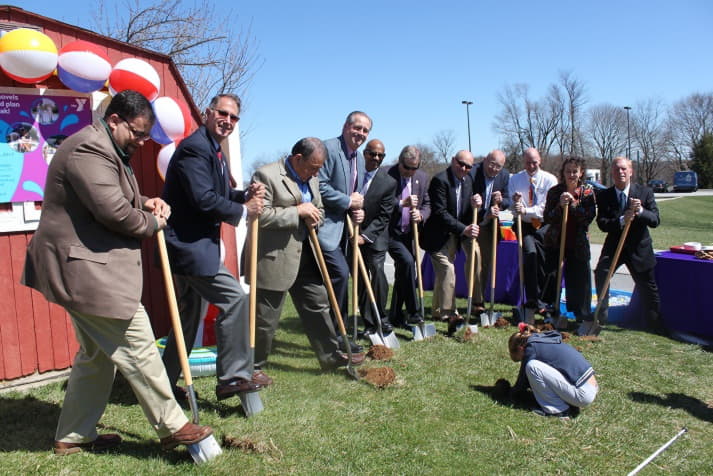 The Y in Central Maryland broke ground for a new Splash Pad at the Hill Y in Westminster last week thanks to a generous lead gift from the Kahlert Foundation, along with Martin K.P. Hill and family, and Carroll "Splinter" Yingling.
At 4,200 square feet, the Splash Pad will feature multiple squirt and spray spouts, water mushrooms and cloud mists, and will be the first of its kind in Westminster. The Splash Pad will be open to Y members, campers and other program participants from Memorial Day through mid-September.
"This Splash Pad embodies our mission of supporting non-profit organizations that improve the quality of life and well-being in the community," said Greg Kahlert, president of the Kahlert Foundation. "We are excited about partnering with the Y for this project and are thrilled to be able to help bring something that will create so much good, healthy summer fun for children and families."
"Thanks to the kindness of our thoughtful donors, we are able to provide the children and families in our community something really new and exciting this year. I can't wait to watch the fun begin," said Thomas H. Breakey, volunteer chair of the Y Carroll County Community Leadership Board.
In addition to the Splash Pad, the Y recently completed several other improvements to the Hill Y in Westminster, including the addition of Family Changing Rooms, as well as upgrades to the locker rooms, pool area and more.
The Y broke ground for its Splash Pad, complete with songs about summer provided by children from the nearby Y Chipmunks preschool program, with Y members, volunteers, associates, Greg Kahlert from the Kalhert Foundation, Martin K.P. Hill and Carroll "Splinter" Yingling, among others on hand for the fun. The Splash Pad will officially open in late May.
Our Mission:
The Y in Central Maryland is a charitable organization dedicated to developing the full potential of every individual through programs that build healthy spirit, mind and body for all.
Our Commitment:
At the Y, we are committed to providing family-oriented, affordable, high quality programs.
A cause driven organization with three areas of vital focus:
For Youth Development: nurturing the potential of every child and teen
For Healthy Living: improving our community's health & well-being
For Social Responsibility: giving back and providing support for our neighbors

The Y is a place for everyone. People of all races, ages, faiths, gender, abilities, backgrounds and incomes are welcome and financial assistance on a sliding scale is available to those who would otherwise be unable to participate.
Our Values:
Caring, Honesty, Respect and Responsibility
More information can be found at www.ymaryland.org.