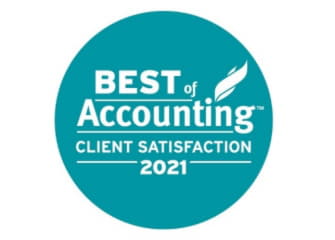 KatzAbosch announced that they have won ClearlyRated's Best of Accounting Award for providing superior service. Best of Accounting Award winners have proven themselves as industry leaders in service quality based entirely on ratings provided by their clients. On average, clients of 2021 Best of Accounting winners are twice as likely to be satisfied than those who work with non-winning firms.
KatzAbosch received satisfaction scores of 9 or 10 out of 10 from 92% of their clients, significantly higher than the industry's average of 23%.
Mark Cissell, President and Chief Executive Officer, says "We are thrilled and humbled to be recognized by ClearlyRated, a leading provider of client satisfaction surveys and service quality research, with the Best of Accounting Award for 2021. We take our clients feedback seriously and we are grateful for the opportunity to help them navigate through all the uncertainty and challenges the past year has brought. Our team strives to go above and beyond to position our clients to create, grow and protect themselves." To learn more about our client's experiences click here.
About KatzAbosch
Founded in 1969, KatzAbosch is one of the largest CPA and business consulting organizations in the region. Our mission is to provide the highest quality accounting, tax, financial and management consulting services to our clients. We understand the needs and challenges of our clients. Our commitment to clients is to Create, Grow and Protect asset value. KatzAbosch is consistently named a Best Accounting Firm to Work For in Accounting Today and one of the Top Workplaces in The Baltimore Sun. Our firm is also ranked among the Top 15 Largest Accounting Firms in the Baltimore Area by the Baltimore Business Journal.
About Best of Accounting™
ClearlyRated's Best of Accounting® Award recognizes accounting firms that have demonstrated exceptional service quality based exclusively on ratings provided by their clients. The award program provides statistically valid and objective service quality benchmarks for the accounting industry, revealing which firms deliver the highest quality of service to their clients. Winners are featured on ClearlyRated.com—an online business directory that helps buyers of professional services find service leaders and vet prospective firms with the help of validated client ratings and testimonials.
About Clearly Rated
Rooted in satisfaction research for professional service firms, ClearlyRated utilizes a Net Promoter Score survey program to help accounting firms measure the client experience, build online reputation, and differentiate on service quality.