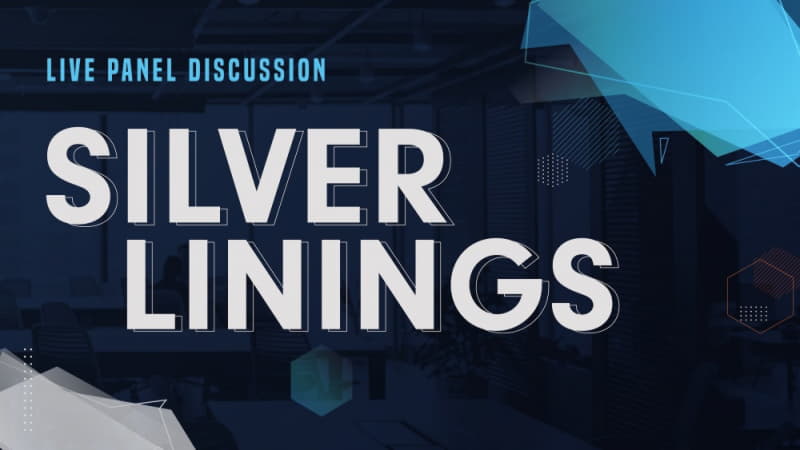 A panel of GovCon and capital markets leaders discussed the state of business for those two industries following the re-opening of the economy, and reasons for optimism for the balance of 2020 and beyond. The session was hosted by Josh Katz, Vice President, Advisory Services for Edge and moderated by Cameron Hunt, Director of Client Services at Womble Bond Dickinson.
Highlights of the conversation included:
Gilbert Dussek, Chief Executive Officer, Gunnison Consulting Group: "We confirmed our theory that employee talent remains the most significant differentiator among companies. The critical need to find and retain good people became exacerbated during this period when everyone was in lock-down mode and could only work virtually. We believe in hiring talented people, taking care of them, and getting out of their way. With commutes lifted, the aperture is now fully opened and we are now looking for talented people not bound by geography. We learned during the past three months that we need to be exceedingly more disciplined and focused in everything we do."
John Hillen, Chief Executive Officer, EverWatch: "It was amazing to watch the high degree of government spending and lending that transpired to boost the economy during this crisis. Many might believe this is counter-cyclical, but it demonstrated the importance of maintaining the strength of all major industries during the downturn. Despite all the things that we traditionally worried about during the pandemic, we see company valuations remaining high which is a positive for everyone. I also see less anxiety for the country, with conflicting opinions about the response to the pandemic now being presented in a more balanced approach. Professionals in the GovCon sector have had an opportunity to evaluate their relationships with the government and for us, we have come to view it as a partnership, more than as a customer/supplier transaction. The concept of partnership rests higher in the food chain and speaks to the true character of the relationship."
Jonathan Moneymaker, Chief Executive Officer, AEgis Technologies Group: "We continue to close deals during this interesting and dynamic time, using creativity and diligence to achieve our goals. We have learned that virtual is actually real and there exists no artificial ceiling on what we can deliver. Despite this, there really is no substitute for face-to-face interaction for building trust, and we should all strive to return to that when possible. There are a lot of positive things to glean from our current environment, namely there exists goodness in people and humanity; we have a bright outlook ahead and a positive attitude is the greatest weapon."
Greg Nossaman, Founding Partner, G2 Capital Partners: "M & A activity is currently at a 10-year high with a peak in valuations occurring earlier this year, although the train screeched to a halt in March. Buyers are looking past the warts and good companies will continue to sell in this environment. The past six to eight weeks has seen an acceleration of activity and it is inspiring to watch how local leaders have implemented mechanisms to maintain the operations of their businesses. When there is an option, we see a flight to safety with companies steering towards the government, which has always proven to be more stable during volatile times. In general, I see an enduring spirit of positivity and volunteerism, with people helping strangers. The human spirit is alive and positive."
Richard Pineda, Chief Executive Officer, CALIBRE Systems: "Every business and every sector, including the federal government, has been significantly impacted over the past several months, but the government contracting industry seems a bit more stable. Business are evaluating consumer buying trends and doing what they can to chart the near future. There is also a presidential election looming over everything. For those companies that don't pivot and shift quickly, trouble lies ahead. Everything is being disrupted and there is no playbook to follow on what we are experiencing. My advice is to focus on a few key principles for your company, take measures to assure the safety and well being of your employees, defend the base and become more efficient, faster, and better. If you don't adapt, you will be left behind."
Dean Rutley, Partner, Womble Bond Dickinson: "Our team has closed five M&A transactions since March with four additional deals in progress. This is robust activity regardless of the environment and signals confidence in the economy and a bullish attitude on the deals being pursued. While many professionals were on lockdown, they were doing lots of homework and tracking the performance of companies. Even though many companies were taking revenue hits now, the corporate fundamentals remained strong and there was strong optimism for a rebound. Most companies shifted work operations quickly, the market did not collapse, and investor confidence remained high during the pandemic. Most business people recognize that the past several months have been bad and uncomfortable, but we survived and it has not been the end of the world."
Edge is a commercial real estate firm providing a full complement of advisory, leasing, investment sales, management, construction, property management and engineering services to clients throughout the Washington, D.C., Maryland, Northern Virginia, and Pennsylvania marketplaces. Founded in 2007, the company currently leases and manages more than 8.5 million square feet of commercial office, flex/office, industrial/warehouse, retail, and mixed-use space. Visit www.edgecre.com.