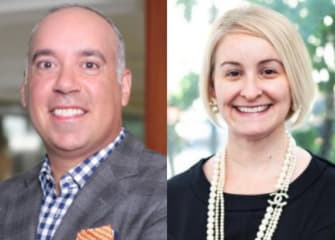 Josh Katz and Heather Davis
As companies throughout the greater Washington, D.C.region ready plans to return to the workplace, they are dealing with a myriad of new guidelines, issues and protocols related to the safety and health of their employees, clients and partners. To help navigate this difficult process, Edge, a full-service commercial real estate firm with offices in Washington D.C., Virginia, Maryland and Pennsylvania, is sponsoring a free webinar entitled "Returning to Business: Employee Care and Well-being in the New Normal." The event is scheduled for Tuesday, May 12 at noon, and interested participants can register HERE. There is a maximum capacity of 500.
Hosted by Josh Katz, Vice President, Advisory Services at Edge, and moderated by Heather Davis, Director of Change Strategy and Employee Experience at KGO, the webinar will feature a live panel discussion comprised of experts in the field of human resource management, workplace culture, employee experience, change strategy and recruiting.
The panelists include Kathy Albarado, Chief Executive Officer, Helios HR; Kelly Chase, Manager of Human Resources, ANSER; Rich Cober, Chief Human Resources Officer, HITT Contracting; Alyssa Friedrich, Senior Vice President and Chief People Officer, United Therapeutics Corporation; Erin Fristoe, Director of Talent and Community Engagement, Research Innovations and Emily Markmann, Executive Vice President, Global People at The Knot Worldwide.
"Like all of our clients, we have been navigating uncharted waters for the past several weeks. Being in the commercial real estate industry in a time when most people are not going to work has really forced us to think about the value we provide. As we inch slowly toward the re-opening of the economy, the ongoing use of a company's space is becoming an area of increasing importance," explained Josh Katz of Edge.
"There is an exhaustive amount of content dealing with preparing physical space to meet social distancing requirements and safety protocols, but not a great deal lot about engaging and equipping the people themselves in the time leading up to the eventual return to work. We are gearing this discussion to dwell on the psychological effect that COVID-19 has had on the workforce, and how to ease anxiety and increase confidence heading into the summer. The webinar will have relevance for any person involved in organizational management and people strategy within a company including CEOs, COOs, human resources and recruiting professionals. The webinar will be an informal vehicle to absorb relevant material and apply it in real time," Katz added.
Edge is a commercial real estate firm providing a full complement of advisory, leasing, investment sales, management, construction, property management and engineering services to clients throughout the Washington, D.C., Maryland, Northern Virginia, and Pennsylvania marketplaces. Founded in 2007, the company currently leases and manages more than 8.5 million square feet of commercial office, flex/office, industrial/warehouse, retail and mixed-use space. Visit www.edgecre.com.