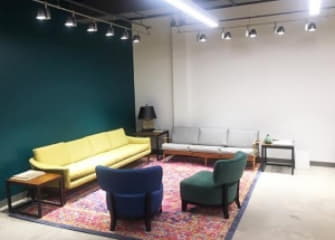 MacKenzie Contracting Company, LLC is pleased to announce they have completed the interior build of Maryland Philanthropy Network's (MPN) new location at 1600 West 41st Street in Hampden, Maryland. The space for MPN, a statewide association of more than 130 private and community foundations, intermediaries, corporations, donor-advised funds and public charities, is in Seawall Development's Hangar Building, a 30,000 square foot converted warehouse adjacent to Union Collective. This relocation comes after the sale of the organization's longtime home, the historic Latrobe Building in Mount Vernon. MacKenzie Contracting's Senior Vice President Scott Albright led construction efforts for the 4,000 square foot space.
MPN's customized space provides their staff and members a more spacious layout featuring a sophisticated conference room, casual meeting areas, open kitchen, gallery space featuring Maryland artists, and offices for staff and work spaces for members. The space also features technological upgrades that will enhance the ability to communicate and connect with members and partners. MPN plans to move in later this month.
"It was a great privilege to work with MPN on this new location, the finished product will support efforts that showcase their mission and allow them to better serve their members and partners for years to come," stated Albright. "We wish them continued success."
Established in 1988, MacKenzie Contracting Company, LLC is an award-winning, full-service general contracting and construction management firm offering a full range of pre-construction, general contracting, ground-up construction, renovations, and project management assistance. Large enough to manage any size job, yet small enough to provide personalized attention, MacKenzie Contracting's extensive experience spans an array of industries including healthcare, retail, general business, senior living, defense, and manufacturing for local and national clients throughout the Mid-Atlantic region. The team emphasizes control over schedule and craftsmanship with a primary mission to deliver consistently superior services in the most cost-effective way possible.
For additional information on MacKenzie Contracting, please visit www.mackenziecontracting.com or contact Scott Albright at 443.798.9377 or salbright@mackenziecontracting.com.
MacKenzie Ventures, LLC (MacKenzie) possesses the multi-disciplined team necessary to excel in Maryland's corporate real estate community. Comprising seven firms, MacKenzie provides clients a competitive, full-service platform of offerings in leasing, sales, investment sales, tenant and landlord advisory services, corporate consulting, commercial development, general construction, property and asset management, debt and equity capital placement, multifamily management, and market research. With more than 225 employees and offices in Annapolis, Baltimore, Bel Air, Columbia, and Lutherville, Maryland, MacKenzie is one of the largest full service commercial real estate firms in the Mid-Atlantic. Please visit www.mackenziecommercial.com for more information.