MRP Industrial Acquires 23-Acre Site In Lehigh Valley Region Of Pennsylvania To Develop Speculative Two-Building Project Totaling 260,200 SF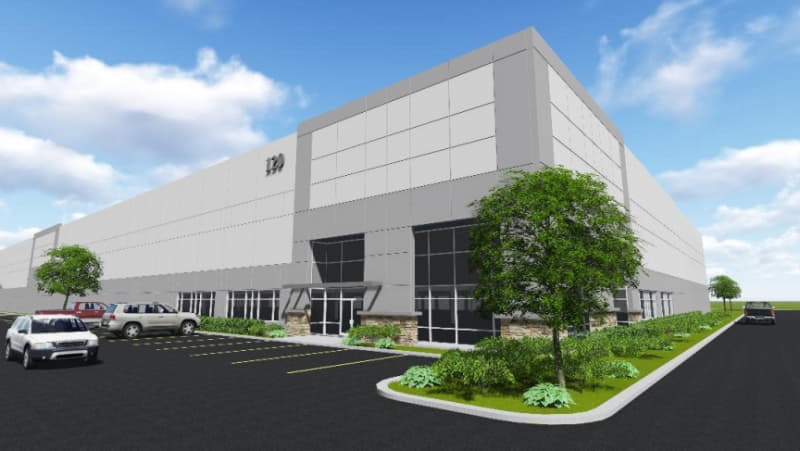 MRP Industrial, a full-service, privately-held commercial real estate development and investment company headquartered in Baltimore, Maryland, has announced the acquisition of a nearly 23-acre site in Quakertown, situated between the Lehigh Valley and suburban Philadelphia real estate markets. Together with its joint venture partner, Cabot Properties, a Boston-based private equity real estate investment firm, the group intends to break ground this summer on a speculative two-building warehouse/industrial project totaling more than 260,000 square feet.Known as PARK 309, both buildings are expected to deliver in late 2018. Brian Knowles and Andrew Komisor, with Lee & Associates of Eastern Pennsylvania brokered the land sale transaction and has also been selected as the exclusive leasing broker.
"The sustained velocity of leasing activity in the industrial and warehouse category, from both a regional and national perspective, provides us with tremendous confidence to proceed with this speculative development project," stated Lisa Goodwin, Senior Vice President of MRP Industrial. "Our team designed two highly-flexible buildings that can satisfy the specific real estate needs of a wide range of end-users including companies involved with logistics, manufacturing operations and warehousing. The Lehigh Valley Region, in particular, remains extremely vibrant given its strategic positioningwithin one day's drive to one-third of all consumers residing in the United States. In addition, more than 9.6 million people live within a 90-minute truck drive from PARK 390."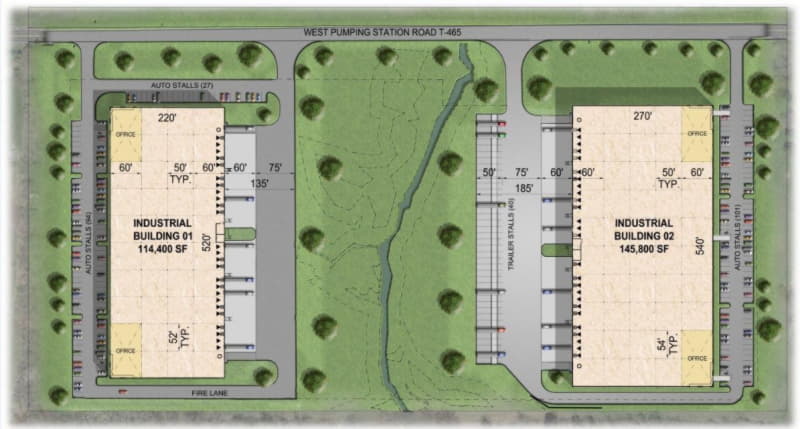 Building I is a single-story industrial/warehouse project consisting of 114,400 square feet of space with Building II comprised of 145,800 square feet of space. Both feature 32 foot clear ceiling heights, two drive-in doors and the option to integrate a high percentage of commercial office to satisfy specific end-user specifications. Each building is also equipped with 135 to 185 foot truck courts to support the movement of large tractor trailers in addition to trailer storage capacity. Fabcon fabricated pre-cast panels will be utilized with a Ductilcrete floor slab, allowing for fewer joints for food-grade and pharmaceutical tenants and level surfaces for forklift traffic s and automated racking technology.
PARK 309 is positioned directly off PA Route 309 and strategically located near Interstates 78 and 476. The site is approximately 30 miles from Philadelphia; 95 miles from New York City; 170 miles from Washington, D.C. and 300 miles from Boston. Access to major ports include Philadelphia (50 miles); Wilmington, DE (65 miles); Newark/Elizabeth, NJ (85 miles) and Baltimore (135 miles). More than 81 million people live within an eight hour drive from PARK 309.
PARK 309 leverages a prime positioning near the suburban Philadelphia region that has been the beneficiary of substantial tenant demand and leasing over the past several years. A primary driver of this activity continues to be the expansion of warehouse footprints by regional and national retailers that enables them to meet the logistical demands of e-commerce activity. Since 2013, market vacancy has been reduced by more than 50%, rents have risen nearly 6% and more than 12 million square feet of positive net absorption has been achieved within the past year.
According to research obtained from the Lehigh Valley Economic Development Corporation (LVEDC), the Lehigh Valley Region contains more than 116 million square feet of industrial space and 26 million square feet of commercial office space and, with nearly 700,000 residents, is considered the 68th largest metropolitan area in the United States by population. Over the past five years, the local area has added nearly 7,000 new warehouse and industrial jobs. The vacancy rate in the bulk industrial and light industrial market were approximately 4% vacant, a figure that is below the national average.
"Every important fundamental exists in the Lehigh Valleyand suburban Philadelphiaregion to achieve both immediate and long-term success for PARK 309, led by the continued voracious demand for high-quality warehouse and industrial product fueled by the rapid acceleration of the e-commerce industry," explained Michael McCarthy, Vice President, Investments of Cabot Properties. "MRP Industrial has assembled a proven design, construction and marketing team and we consider this project an outstanding investment that is expectedto result in sustained value. PARK 309 introduces two modern buildings to the local marketplace, offering new Class A, energy efficient options to local tenants, 60 percent of which occupy warehouse inventory that was constructed over 40 years ago"
Founded in 2013, MRP Industrial focuses on strategic investments in core industrial markets and high growth submarkets across the northeastern section of the United States. The company specializes in the acquisition, development, financing and leasing of industrial real estate. MRP Industrial's institutional capital partners and corporate clients are provided with a full array of real estate development options, including build-to-suit development, fee development services, speculative investment and value-add acquisitions. MRP industrial is considered among the most active developers within its target submarkets, having developed thirty buildings comprising nearly ten million square feet of space. The company also currently maintains a future development pipeline valued at approximately $350 million. Visit www.mrpindustrial.com.
Cabot Properties, a private equity real estate investment firm based in Boston, MA, is a leading investor, developer and operator of industrial properties. Formed in 1986, Cabot was founded with the vision of bringing together a collaborative team of experienced real estate professionals dedicated to creating portfolios of profitable investments throughout the execution of a sound and disciplined strategy. Cabot has invested $8.3 billion in industrial real estate, and currently manages and operates168 million square feet of space with more than 3,700 tenants. For more information, visit http://www.cabotprop.com/